Equipment makers expand
From Texas to China, construction equipment manufacturers are building and expanding plants. Caterpillar, for instance, will invest $3 billion in capital expenditures in 2011, half of that in its U.S. operations.
Much of this expanding footprint, however, is directed overseas, particularly in China and India, including:
• Caterpillar – remanufacturing parts facility in Singapore for large off-highway trucks and other mining equipment; two plants in Thailand, one to produce medium dozer and the other for underground mining machinery. Cat also is building facilities in Tongzhou and Xuzhou, Jiangsu Province, China, and a parts distribution center in Dubai, United Arab Emirates.
• Cummins – megasite in Phaltan, Maharashtra, India, which will be composed of about 10 factories covering 300 acres, will include engine, generator and component manufacturing and a parts distribution center.
• John Deere – facilities in Tianjin Economic Technological Development Area in China for engines, four-wheel drive loaders and excavators; a construction equipment plant in Russia.
• Volvo – spending $50 million to expand its facility in Linyi, China, which produces excavators.
• Wacker Neuson – Hörsching, Austria, plant starts producing compact equipment in May 2012.
– Lauren Heartsill Dowdle
Digital exclusives for October

Inspection Checkpoint: Checklist
Use our handy checklist when inspecting used articulated trucks.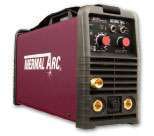 Product Focus Extra: Welders
See a selection of units from Lincoln Electric, Miller Electric, Thermal Dynamics and more.
Weigh in …
Take our poll! Visit www.EquipmentWorld.com and scroll down the left side of the homepage.
Our current poll:
What would you like to see on the Equipment World website?
Results from our last poll:
(71 respondents)
What's your top resource for industry news?
Magazines — 69%
Websites — 17%
Manufacturers/Suppliers — 6%
Industry Newsletters — 4%
Trade Shows — 3 %
Webinars — 1 %
Network with us!
Connect with EW on Facebook, LinkedIn and Twitter. Enter "Equipment World" in the
search field, join the group or "like" EW and stay updated on news and events while
networking with fellow industry members.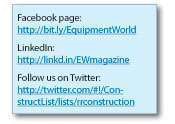 Subscribe to our YouTube channel!