Grinders, chippers and shredders
Lauren Heartsill Dowdle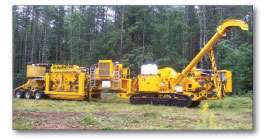 REMOTE OPERATED
The CBI Magnum Force Disc Chipper 754 uses a four-knife, 75-inch disc chipper and has a 26-inch feed opening.
• Chip discharge chute is remote operated, camera monitored and folds hydraulically for transport
• Trash separator and bark pusher discharge on the opposite side of the chip discharge
• Chip sizes from 3/8 inch to 1 inch.
Visit EquipmentWorld.com/info
HYDRAULIC HEAD
The Toro STX-26 stump grinder has two controls that operate all traction and grinder functions, including traction, sweeping, lifting, lowering and head engagement.
• Offset grinder head has a 47-inch arc
• Grinder is 78 inches long and fits through a 36-inch gate
• Features a hydraulically driven head.
Visit EquipmentWorld.com/info
Pay attention to teeth and blade wear
Site prep and brush clearing can be tough work, so pay particular attention to the working areas of these machines.
Stump grinders/forestry cutters
Be mindful of what's on the ground. Rocks, rebar and steel can destroy teeth, so always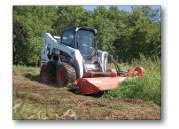 make sure the carbide teeth are intact before, during and after a task. If the teeth are shorn off and shank holder material begins to wear, it can mean a costly repair.
Flail cutters
The design of a flail cutter includes a steel hammer tooth that sharpens itself as it cuts material. Rocks and other hard materials can put dings in the steel, so grinding that area down will ensure the life of the tooth.
Rotary cutters
A rotary cutter consists of two large cutting blades that provide bidirectional cutter rotation. To change the direction, simply switch the hydraulic hoses at the drive motor; doing so on a periodic basis will increase overall blade life. Check blades regularly to see if they need sharpening.
Source: Bobcat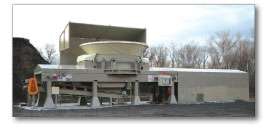 DUAL MOTORS
The CW Mill Equipment HogZilla grinder uses dual 400-horsepower electric motors to drive the 46-inch diameter, 12-pin hammermill.
• Tub floor is built with 3/4-inch abrasive resistant steel
• Belly conveyor is 72 inches wide
• Features a hammermill with an 8 3/4-inch main shaft.
Visit EquipmentWorld.com/info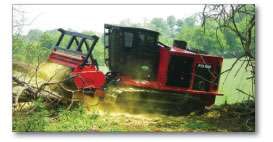 PREPARES SITE
The Fecon FTX600 handles pipeline and power line right-of-way clearing, large-scale vegetation management and site preparation.
• Delivers 210 gallons of hydraulic flow to the variable speed mulching head
• Has 5.9 pounds per square inch of ground pressure
• Cuts 98 inches high and 32 inches below grade.
Visit EquipmentWorld.com/info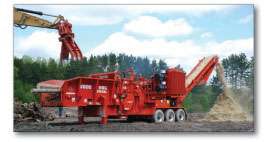 INTERNAL WHEEL
The Morbark 3800XL Wood Hog grinder has a laser-cut, factory-balanced rotor and an internal drive top-feed wheel.
• Features a 40 by 59 3/4-inch infeed opening
• Available with horsepower ranging from 700 to 800 horsepower
• Includes a rugged WHD 120 chain in the infeed bed.
Visit EquipmentWorld.com/info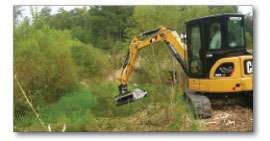 RELIEF VALVE
Reclaim and deforest particularly steep areas such as river and canal banks, power lines, pipelines, railroads and right of ways with FAE's UMM/EX forestry mulcher.
• Weighs between 18 and 30 tons
• Uses a 63-cc hydraulic piston motor with a double relief valve
• Has a fixed-teeth rotor for excavators.
Visit EquipmentWorld.com/info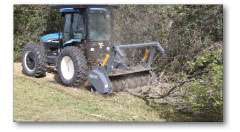 SHEAR BAR
Loftness's mulcher cuts down standing trees by backing into the work or by hooking to a tractor equipped with a front three-point hitch and power takeoff.
• Has an optional shear bar to produce finer mulch and prevent jamming
• Features an optional hydraulically operated rear mulching door and tree-pusher bar
• Hammers are individually bolted on.
Visit EquipmentWorld.com/info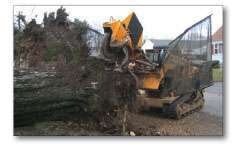 HIGH FLOW
The Ryan's Equipment Predator stump grinder handles land clearing and storm clean up with a cutting width of 60 inches and depth of 24 inches.
• Designed for high-flow skid steers with 30 to 50 gpm
• Curtains can be folded back for transportation
• Features a 22 1/2-inch wheel design that holds 24 teeth.
Visit EquipmentWorld.com/info
SELF-POWERED
The Sneller Machine 275-horsepower shredder is self-powered and has a 60-inch drum with stationary carbide teeth.
• Weighs 8,200 pounds and requires a 25 metric ton or larger excavator
• Teeth shred an average of 4 acres a day
• Remote control shredder from the cab.
Visit EquipmentWorld.com/info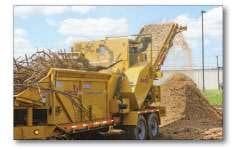 REVERSING FAN
The Rayco RH1754-240 processes materials such as wood chips, lumber scraps, pallets, logging slash and green waste.
• Has a 240-horsepower Cummins 6.7-liter diesel engine
• Discharge conveyor reaches 12 feet high
• Radiator has a removable debris screen and reversing fan.
Visit EquipmentWorld.com/info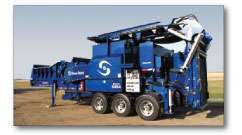 COMPACT GRINDER
The DuraTech 5064 horizontal grinder, a compact version of the 9564, is 39 feet 5 inches long and weighs 70,000 pounds.
• Available in a track or trailer model
• Choose from 475, 540 or 630 horsepower with an HPTO 14 wet clutch
• Feed opening is 61 1/3 by 35 inches.
Visit EquipmentWorld.com/info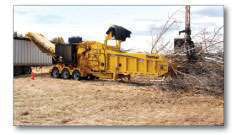 DUAL SCREENS
Vermeer's HG6000 horizontal grinder produces 755 horsepower and features a dual-screen system.
• Powered by a Cat C18 Tier 4i/Stage IIIB engine
• Screens are reversible and interchangeable
• Drum hammermill has 10 hammers and 20 cutter blocks
with a 36 1/3-inch cutter tip diameter and 62-inch cutting width.
Visit EquipmentWorld.com/info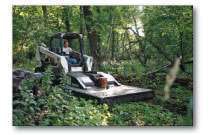 PRESSURE GAUGE
The Bobcat Brushcat rotary cutters mulch small branches and saplings up to 3 inches in diameter and cut through thick grass and brush.
• Comes in five models with varying auxiliary hydraulic flow capabilities
• Available in both 60- and 72-inch widths
• Hydraulic pressure gauge on the rotary cutter indicates the operating pressure range of the loader and is visible from the operator's seat.
Visit EquipmentWorld.com/info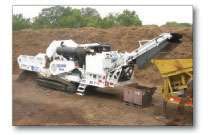 DIESEL, ELECTRIC
The Diamond Z DZH4000 horizontal grinders are available as track, wheel or stationary mounted with either diesel or electric power.
• Ranges from 75,000 to 88,000 pounds, depending on which options are included
• Uses a Cat C18 700- and 765-horsepower engine
• Offered with Tier 2, 3 and 4 interim emission ratings.
Visit EquipmentWorld.com/info