Welders
By Amy Materson
SIMPLE-TO-USE SYSTEM
Weld or gouge longer with Miller Electric's XMT 450 MPa multiprocess welder, which handles pulsed MIG welding with up to .052- and 1/16-inch wires and is rated at 450 amps at 100-percent duty cycle. The XMT 450 MPa has a simplified user interface and controls, including a process selector switch and dual digital meters. The XMT 450 MPa can also be used with 74 MPa Plus and AlumaFeed feeders and the XR-AlumaPro or XR Pistol MIG gun for synergic Pulsed MIG welding. The system automatically adjusts pulse parameters to match the wire feed speed, enabling the welder to work on thick or thin materials without having to change multiple parameters.
Visit EquipmentWorld.com/info
RELIABLE WIRE
Achieve reliable arc starting with the Tri-Mark Matrix wire from Hobart Brothers, which provides uncompromised arc starting and wire feeding consistency. The metal-cored welding wire extends the life of robotic gun liners and eliminates buildup at the drive rolls, reducing downtime. The wire produces a consistent bead shape that provides crack resistance and minimizes silicon island formation. The wire is available on 33-pound spools or a 750-pound X-Pak drum.
Visit EquipmentWorld.com/info
BOOST PRODUCTION
Lincoln Electric's Outback 145 now features a 9.5-horsepower Kohler Model CH395 OHC gasoline engine, which has a cast iron cylinder liner to ensure long engine life and a low oil level automatic shutdown. The Outback 145 delivers 145 amps of DC output welding for use with up to 1/8-inch stick electrodes on steel, stainless steel, cast iron and hardfacing applications. The unit also accepts the Power MIG 140C or Power MIG 180C compact MIG wire welders without an adapter, enabling high-productivity wire welding.
Visit EquipmentWorld.com/info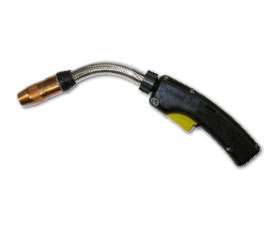 CUSTOMIZABLE GUNS
Improve productivity with the Q-Gun line of MIG guns from Bernard, which features customizable options for individual applications. The Q-Guns are available in 150-, 200-, 300-, 400-, 500 and 600-amp models and are rated at 100-percent duty cycle with CO2 gas. Select from a locking trigger, dual pull trigger, dual schedule switch and dual schedule switch with lock, and choose a fixed or rotating aluminum neck. Bernard's online Configurator ordering system enables Q-Gun configuration 24 hours a day through a step-by-step customization process. The units are standard with Centerfire consumables, but can be ordered with Elliptical or Quik Tip consumables.
Visit EquipmentWorld.com/info
POWERFUL PACKAGE
Experience flexibility with Thermadyne's Thermal Arc 201 TS portable welder, which is useful for a variety of light industrial applications. The 201 TS delivers 100 amps on standard 115-volt circuits for Stick welding and 150 amps for TIG, and can deliver up to 200 amps maximum output when used on 208- to 230-volt circuits. The unit has reduced amperage draw compared to traditional style power supplies while providing a wider range of welding output on smaller input power circuitry.
Visit EquipmentWorld.com/info
MINIMIZE INVENTORY
Reduce the cost of consumables with the Tough Lock Consumables System from Tregaskiss, useful for both semi-automatic and robotic MIG guns. The Tough Lock system features precision machined contact tips and a dual lead thread design that enables the tips to rotate 180 degrees to create a new wear position for extended tip life. The retaining head has Dual Taper Technology; a second rear taper between the gooseneck and contact tip helps dissipate heat and keeps the tip secure and centered. The system also has Surestart tips to reduce arc start failures.
Visit EquipmentWorld.com/info