CONEXPO-CON/AGG review
By Amy Materson and Lauren Heartsill
PRODUCTIVE PLASMA CUTTING
Perform a range of applications with the Lincoln Electric Tomahawk 625 plasma cutting system, designed for mild steel, stainless steel, aluminum, brass and copper. Operating on 208- or 230-volt single phase 50- or 60-Hz input power, the unit delivers 10 to 40 amps of output with a 40-amp at 96-volt, 35-percent duty cycle rating. Included are the LC40 plasma cutting torch, integrated water separator, air regulator and pressure gauge, cables, spare parts and shoulder strap. The Touch Start system supplies reliable arc initiation, and a front panel purge control enables easy air flow adjustment without initiating an arc.
Visit EquipmentWorld.com/info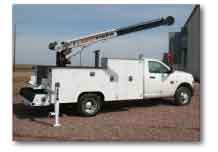 COMPACT CRANE
Tiger Cranes' Model 4027E hydraulic crane features a 4,000-pound lifting capacity with an 18,000-foot-pound rating, and has a reach of 16 1/2 feet. Powered by an integrated 12-volt DC power system, the Model 4027E features hydraulic boom extension from 7 feet 4 inches to 11 feet 10 inches, with manual extension from 11 feet 10 inches to 16 feet 6 inches. Integrated electronics eliminate the ability to "bounce" past the overload, keeping the operator from using an unsafe lifting angle. The crane's shorter retracted length fits behind the cab of the truck instead of extending over the cab.
Visit EquipmentWorld.com/info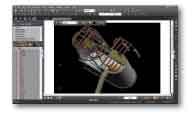 PAPER-FREE PROJECTS
Take construction projects paperless with the PDF Revu 9 from Bluebeam Software, which allows you to create, markup, edit and manage PDF files. The software's 3D viewing capability lets users navigate through models, rotate, spin, zoom, isolate and create transparent layers, as well as refining perspective and vantage point. PDF Revu 9 also features VisualSearch to allow you to find all instances of a specific element throughout a single or multiple documents and files, and then apply markups simultaneously. Takeoff tools include area cutouts for accurate estimates, and advanced animation simplifies cycling through 3D views.
Visit EquipmentWorld.com/info

TOUGH TIRE
Extend tire life with Michelin's XDR2 rigid dump truck tire, which delivers 20 percent more tread life than the XDR, as well as twice the sidewall thickness to provide cut and abrasion resistance. Available in a 27R49 size, the Michelin XDR2 features a 10-percent thicker undertread to improve cut and impact resistance. Full-depth blocks, a self-cleaning tread pattern, a larger central lug and a non-directional design protects against cut separations. C2 Technology incorporated into the tire's casing ensures a cooler temperature to boost longevity.
Visit EquipmentWorld.com/info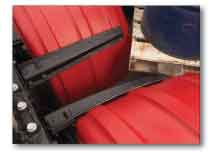 FENDER SAVER
Eliminate breaking, bending and cracking with Minimizer's fender bracket system, which is manufactured from a composite material instead of the traditional fender and bracket made from plastic and metal. The material won't fade over time, and never needs painting or polishing. Designed specifically to work with the Minimizer fender, the bracket system reduces road vibration and absorbs impact, springing back into place if bent. The bracket system is simple to install using universal hardware.
Visit EquipmentWorld.com/info
BOOST CRANE CAPACITY
Experience versatility with Stellar Industries' Model 5521 telescopic service crane, which offers 21 feet of reach and lifts up to a 5,000-pound capacity at 5 feet 9 inches in boost mode. Equipped with Stellar's Crane Dynamics Technology control system, the 5521 allows operators to safely exceed standard capacity by increasing crane capacity to 118 percent for a short period of time. Extension cylinders are located inside the boom, and a variable speed multi-function radio remote control is a standard feature. A hexagonal boom design reduces flex and increases strength.
Visit EquipmentWorld.com/info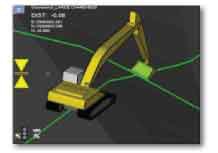 3D GUIDANCE
Boost proficiency and accuracy with the Earthworks X300 excavator guidance system from Hemisphere GPS, which features the company's Crescent Vector GPS compass technology. The system delivers real time 3D visuals on the bucket position relative to a grade surface, reducing the need for staking or manual grade checking. The X300 also works in 2D mode through the unit's touch screen interface. Useful for both coarse and fine grade excavation, suitable applications include site prep, general earthwork, road construction, utility trenching and grading.
Visit EquipmentWorld.com/info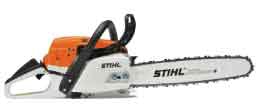 FUEL SAVING SAW
Extend time between refueling with Stihl's MS 261 and MS 261 C-Q chain saws, which deliver a 20-percent increase in fuel efficiency when compared to previous models. The compact saw has a decompression valve for easier starts, an advanced anti-vibration system, a split barrel carburetor and a stainless steel muffler. The saws also include ease-of-use features such as a side-access chain tensioner, toolless fuel and oil caps with retainers and a translucent fuel tank. The MS 261 C-Q has Quickstop Plus, a chain braking system that stops the chain in less than a second following handle release.
Visit EquipmentWorld.com/info
HELPFUL HITCH
Increase the target zone for connecting a truck and trailer with the TeleSwivel 210 hitch from Williams Innovations, which extends out from the vehicle and moves side to side. The hitch has a 10,000-pound GTW (1,000-pound tongue weight) rating, features a top-pull locking pin handle and a two-step coating process for a high level of corrosion resistance. Available accessories include an accessory plate model that accommodates a variety of hitches and a drop/rise attachment with standard ball hitch that accommodates most weight distribution heads.
Visit EquipmentWorld.com/info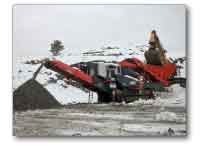 TRACKED CONE CRUSHER
Sandvik has released a mobile version of its CH440 cone crusher, the QH440. The crusher, which is powered by a 440-horsepower Caterpillar C13 engine, processes material up to 215 centimeters at a rate of up to 388 tons per hour. Six different crushing chambers from fine to extra-coarse are available, along with eight different bush settings from 16 to 44 millimeters. A heavy duty hydraulically folding feed conveyor improves wear resistance, and a direct drive maximizes power and fuel efficiency. The tracked machine has four jacking legs for stability, and an automated material level feed control for production, reduction and shape.
Visit EquipmentWorld.com/info

NATURAL INCLINATIONS
Using end-user research and in-cab videos that showed how operators perform typical tasks on the jobsite, Sauer Danfoss designed the JS7000 joystick for heavy-duty construction equipment. With up to 25 degrees of potential movement and no buttons or switches on the top, the JS7000 was designed to accommodate the natural inclinations of operators. Featuring a 300-pound shaft load and a minimum ingress protection rating of IP 67 – meaning the joystick is dust-tight and protected against temporary immersion in water – the JS7000 is available with single- and dual-axis configurations and spring centering.
Visit EquipmentWorld.com/info