By Amy Materson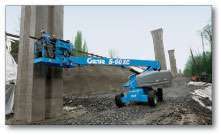 BIG BOOM
Lift up to three workers with Terex Aerial Work Platforms' new Genie telescopic boom models. Available in four models – the S-60X, S-60XC, S-60 Trax and S-80X – the units feature restricted platform capacities up to 1,250 pounds. The unrestricted operating envelope has the same 500-pound capacity and outreach as the existing machine. The dual capacity feature enables the operator to select the desired maximum load capacity. A ramped boom control system provides smooth boom functions and delivers finer control, and a virtual pivot primary boom aligns the center of gravity, lowering the unit's weight.
Visit EquipmentWorld.com/info
EDITOR'S PICK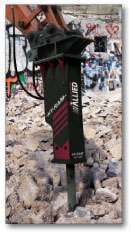 HIGH-IMPACT HAMMER
Demolish concrete structures, trench rock, building foundations, pavement and bridge decks with the Hy-Ram HR Series from Allied Construction Products. The hammer's oil and gas operation increases efficiency through the use of low pressure nitrogen, reducing demand on the carrier's hydraulic system and eliminating dependency on hydraulic accumulators. Pressurized oil at the bottom of the piston prevents internal cavitation. A longer piston stroke delivers higher impact power, and the long stroke design, which eliminates mechanical springs, also reduces recoil and vibration. The hammer's housing design suspends the internal working body inside a full-box enclosure for protection and noise reduction. An auto-stop system prevents blank firing once penetration is achieved and downpressure is no longer applied. The HR Series is available in 12 different models in working widths from 265 to 8,375 pounds, with 1.77- to 6.88-inch tool diameters.
Visit EquipmentWorld.com/info
COMFORT AND CONTROL
Hyundai Construction Equipment's 9 Series excavators, which include 2.8-, 14.7- and 32.8-metric-ton models, have a range of standard features such as heated air-ride suspension seats, CD player-radio with mp3 input and remotely mounted controls, hands-free cell phone mode and a heavy duty bucket. All 9 Series models have large operator's cabs with soundproofing insulation and reinforced structures. The Computer Aided Power Optimization system offers customizable machine operation through power, work and user mode selection. The HI-mate remote management system uses GPS/Satellite technology to access critical machine information.
Visit EquipmentWorld.com/info

SPEEDY SOLDERING
BernzOmatic's Quickfire torch delivers a high intensity swirl flame for 30-percent faster soldering time. An adjustable flame control ensures accuracy and precision, and the compact profile offers maneuverability and control in tight areas. A quick-connect cylinder uses propylene fuel instead of propane, and provides enough fuel to solder 200 fittings. A quick-start feature offers one-handed operation.
Visit EquipmentWorld.com/info
STEADY STABILITY
Minimize slowdown during travel while using attachments with the Kubota KX057-4 compact excavator's load-sensing hydraulic system, which uses a combination of closed and open center controls. The system provides optimum oil flow to each cylinder, ensuring strong digging forces, smooth multi-function operation and fuel economy. The 5-ton-class excavator has a 47.6-horsepower engine with single-side servicing, an auto-idle feature and an auto-downshift travel motor. For stability, the KX057-4 uses X-frame construction and has a conventional tail swing.
Visit EquipmentWorld.com/info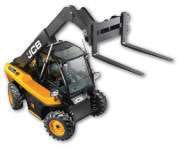 WELL-EQUIPPED
Get big performance from a small machine with JCB's 515-40 compact telescopic handler, which has an overall height of 5 feet 11 inches and offers an 8-foot 6-inch forward reach. The telehandler's design features an offset single-spine main frame, which enables the 515-40 to have a full-size cab. Powered by a 50-horsepower engine, the telehandler can carry 3,300 pounds to a 13-foot 2-inch max lift height. The 515-40 comes equipped with four-wheel steering, four-wheel drive, a hydrostatic transmission and a universal skid steer quick attach.
Visit EquipmentWorld.com/info
COMPACT CONTROLLER
Increase efficiency in the field with Topcon Positioning Systems' FC-250, a compact field controller with an easy-to-navigate, intuitive interface. Offering improved graphics when compared to previous models, the FC-250 uses Windows Mobile Version 6.5, 806-MHz processor and 256MB SDRAM for speedy data collection. The unit has a 3.7-inch touch-screen display and standard Bluetooth modem and wireless LAN capability.
Visit EquipmentWorld.com/info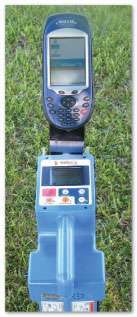 ONE-HAND OPERATION
McLaughlin's Verifier G2 GPS-enabled locator offers one-touch operation, simplifying utility location. The receiver exports depth, current measurement index, frequency and locator mode via serial port to an integrated Magellan GPS unit. Once set up, the unit enables the operator to control depth, longitude and latitude location in a single step, controlling all locating and GPS recording with the push of one button.
Visit EquipmentWorld.com/info