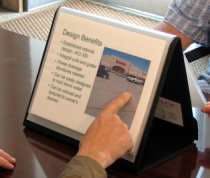 The National Ready Mixed Concrete Association added another title to its pitch book marketing tools series. Concrete Overlays of Asphalt Parking Lots teaches industry promoters, concrete salespersons and concrete contractors the technology of using concrete to overlay and renew existing asphalt parking lots.
The 20-page flip book includes presenter notes and touches on how and why overlays work, rules for evaluating and exiting parking lot and determining concrete thickness, best practices for placing concrete overlays and case studies of successful projects.
The new book is available through NRMCA's website.