While researching construction equipment that he was in need of buying on EquipmentWorld.com, Steve Montgomery of Red Hill Construction noticed a chance to win some for free in the Contractor's Dream Package sweepstakes! Steve filled out the on-line registration form, submitted it and forgot all about it.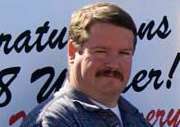 In mid-October, Steve received a surprise phone call informing him that his entry had been chosen as the lucky winner!
Steve received his prizes on October 30, 2008, during Equipment World's Contractor's Dream Package Winner Event hosted by Premier Ford of Columbus, Mississippi, the local Ford Commercial Truck dealer in Steve's hometown area. His prize package includes a Ford F550 Super Duty truck; a Ditch Witch Zahn utility machine; a Landoll 16-foot tilt trailer; a Lincoln Electric Ranger GXT 250 welder; a Trimble site control system; a Baldor portable generator; Donaldson filtration products; a VMAC underhood air compressor; Ingersoll Rand BX-80WH plate compactor, WS16 walk-behind saw, and RX-304H upright rammer from Doosan Infracore Portable Power; a Werk Brau bucket/attachment credit; a Sage Oil Vac mobile oil/fluid change system; Conoco Phillips lubricants products; and Alturnamats ground protection mats. The package is worth well over $100,000!
Red Hill Construction has been in business for 8 years in the Weir, Mississippi, community. "Winning this equipment and products is truly a dream for me," says Steve. "I recently sold some of my older equipment and was in the market to upgrade my fleet when I learned about my good luck in winning the sweepstakes. Now, I won't have to buy as much as I had thought!"
Equipment World is the leading business-to-business publication reporting on equipment and business practices to help America's contractors run more efficient operations.
Equipment World's Contractor's Dream Package sweepstakes is the only program of its kind as a way for sponsors to promote their products in addition to traditional print advertising. For the past eight years, a lucky contractor such as Steve Montgomery wins top-of-the line equipment to add to their fleet, and Equipment World accomplishes its goal of serving its readers and advertisers.
"We are very proud of the commitment our sponsors have made to this great program. I'm sure Steve Montgomery will think about them each time he uses the products on his jobs," said Joe Donald, associate publisher, Equipment World.
About Equipment World and Randall Reilly Publishing
Launched in 1989, Equipment World magazine is the leading national business-to-business trade publication serving the heavy construction contractor. The Equipment World Dream Package program offers Equipment World advertisers an additional avenue to promote their products and services.
Founded in 1934, Randall-Reilly is the premier business-to-business publishing company focused on the construction, trucking and industrial markets. The company's construction division covers the highway and heavy construction, landscaping and used equipment markets.
Randall-Reilly's trucking division serves the fleet, owner-operator, recruitment, truck stop, used truck and trailer, dealer and heavy-duty aftermarket segments.
The company also operates a company-sponsored publication division serving Fortune 500 companies and a UCC-filing database and research group. Randall-Reilly has offices in Tuscaloosa, Alabama; Atlanta, Georgia; Chicago, Illinois; Charlotte, North Carolina, and New Berlin, Wisconsin.