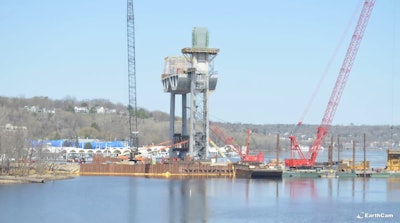 The Minnesota Department of Transportation (MnDOT) has done a great job of documenting ongoing construction of the St. Croix Crossing, a 3,200-foot bridge that will connect Minnesota and Wisconsin over the St. Croix River. The bridge construction project began in April 2013 and is expected to be completed in the fall of 2017.
Numerous videos and photos of different aspects of construction processes can be found on the MnDOT website. The time-lapse video below captures construction on the project between April 2013 and November 2015.
Interest in the bridge project has been so great that MnDOT started offering public paddle boat tours through St. Croix Boat & Packet to allow area residents and visitors to view the construction up close and personal. So, if you find yourself in the area, be sure to schedule a tour.