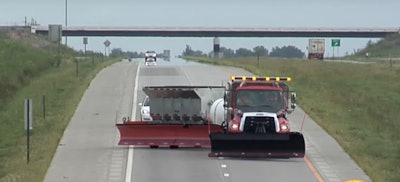 The Kansas Department of Transportation's (KDOT) plans to invest $160 million in revenue to kickstart delayed projects and move ahead with a fistful of initiatives to help its ailing infrastructure.
On February 13, Gov. Laura Kelly joined Kansas Secretary of Transportation Julie Lorenz in announcing the plans, which are included in the governor's fiscal year 2020 budget for transportation.
The $160 million comes from reducing the amount of money transferred out of the State Highway Fund, the governor's office says in a press release.
Since 2011, more than $2 billion has been transferred out of the State Highway Fund, causing costly project delays, reduced highway preservation work, a decline in the health of the Kansas highway system and an inability to plan for future projects, the governor says.
"With this $160 million in revenue, we will strengthen our highway system, take steps towards completing T-WORKS, and provide resources to communities across the state," says Kelly.
T-WORKS is a 10-year, $8 billion transportation program designed to create jobs, preserve highway infrastructure and also provide multimodal economic development opportunities across the state. KDOT is responsible for the delivery of T-WORKS, which was passed by the Legislature in 2010.
Due to funding problems, these four T-WORKS projects had been delayed:
US-54 in Seward County (Expansion project; let for construction Fall 2019)
US-169 in Anderson County (Modernization project; let for construction Fall 2019)
US-281 in Russell County (Modernization project; let for construction Spring 2020)
US-50 in Lyon County (Expansion Project; let for construction Spring 2020)
"These are important steps forward, but to be clear, we still have a long way to go in order to get our transportation system where it should be," the governor says.
With the $160 million in FY 2020, KDOT will:
Increase the highway preservation investment from $350 – $400 million
Move forward with the four delayed T-WORKS projects
Reinstate the Kansas Local Bridge Improvement Program
Implement a new cost-share program for state/local partnerships
Enhance its safety program
Increase City Connecting Link maintenance payments
Increase funding for modal programs (e.g., transit, aviation, rail and bike/pedestrian)
These investments are aligned with recommendations from the Joint Legislative Transportation Vision Task Force that met last year.
"We look forward to working with communities and our partners across the state to deliver these investments," says KDOT Secretary Julie Lorenz.
"We know that funding reductions have impacted the health of our system," Lorenz says. "I'm so pleased to work with Governor Kelly to take this important step forward to achieving the goals the task force laid out and improving our state's transportation system."