Alaska has declared a state of emergency after a 7.0 magnitude earthquake extensively damaged roadways and buildings and sent residents scrambling for cover last week.
On Monday, the U.S. Geological Survey reported that more than 1,000 aftershocks have shaken Alaska, as seen on this map, since the 7.0 earthquake hit November 30.
About 350 small earthquakes were higher than 2.5 and around a dozen registered higher than magnitude 4.5, that agency says.
The original quake's epicenter was about eight miles north of downtown Anchorage and caused structural damage to buildings and buckled roadways. No deaths or serious injuries were reported.
"There is major infrastructure damage," the Anchorage Police Department had said in an alert. "Many homes and buildings are damaged. Many roads and bridges are closed."
At outgoing Gov. Bill Walker's request, President Trump issued a Federal Emergency Declaration to assist local, state, and non‐government response and recovery efforts.
Alaska Gov.-elect Mike Dunleavy takes office Dec. 3, days after the earthquake rocked heavily populated Anchorage and the MatSu Valley in South-Central Alaska.
All state offices in Anchorage, Eagle River, Wasilla, and Palmer were closed for business on Monday, December 3.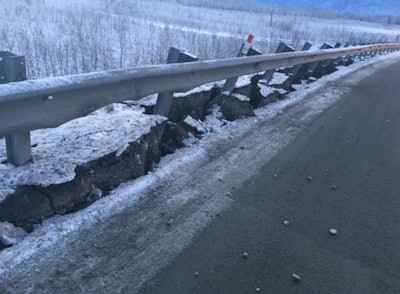 Due to extensive damage on the Glenn Highway, between miles 23-25 (Eklutna to Mirror Lake), the Department of Transportation & Public Facilities (DOT&PF) requested that agencies keep employees at home, if possible.
The Glenn Highway remained open but will be limited to one lane of traffic in either direction through the Eklutna to Mirror Lake section, the department says.