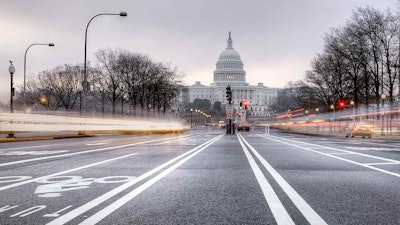 U.S. Transportation Secretary Anthony Foxx has released the final Beyond Traffic 2045 report emphasizing challenges the U.S. will face in the transportation sector through the year 2045.
It's no surprise the report shows the country's current transportation system won't be able to meet the demands of changes in technology, population and climate.
"Beyond Traffic started a long overdue conversation about whether our transportation infrastructure will keep pace with our changing country," Foxx says. "The final report again shows that if we do not invest in our infrastructure, we will let conditions move us backwards."
The first draft of the study was released in February 2015 and was downloaded more than 500,000 times from the U.S. Department of Transportation's (USDOT) website, the agency reports.
Key points reviewed in the study includes:
How we move – America's population is expected to grow by 70 million by 2045, and by 2050, three-quarters of Americans could live in eleven emerging megaregions – larger geographic clusters in spanning multiple cities and communities.
How we move things – Freight volume is expected to increase by more than 40 percent, partly driven online shopping, adding extra demand to our transportation networks.
How we adapt – Predicted rises in global temperatures and mean sea levels, and more frequent and intense storm events, could drastically affect highways, bridges, public transportation, coastal ports, and waterways.
How we move better – Automation and robotics will affect all modes of transportation, improving infrastructure maintenance and travel safety, and enabling the mainstream use of autonomous vehicles.
How we grow opportunity – Middle- and low-income American households spend, on average, nearly 20 percent of their income on transportation and 40 percent on housing—higher shares than for wealthier Americans.
How we align decisions and dollars – Federal gasoline-tax revenues have failed to keep up with our transportation needs and could decline further as vehicle fuel efficiency improves, and inflation further erodes purchasing power.
USDOT has also designated 18 Beyond Traffic Innovation Centers "to lead research on the transportation challenges" that are identified in the report.
"The centers are non-profit institutions of higher education and non-profit organizations which convene leaders and other key decision-makers in each of eleven megaregions around the U.S., as well as in rural communities, to discuss these challenges and coordinate related research, curriculum, outreach, and other activities," the department reports.
The 11 megaregions include:
Cascadia/Pacific Northwest megaregion: University of Washington
Florida megaregion: Florida International University
Front Range megaregion: University of Denver
Great Lakes/Midwest megaregion: Center for Neighborhood Technology, Ohio State University and University of Michigan
Gulf Coast megaregion: Texas Southern University
Northeastern megaregion: Northeastern University and Rutgers University
Mid-Atlantic megaregion: University of Virginia
Northern California megaregion: University of California, Berkeley
Southern California megaregion: California State University, San Bernardino
Piedmont/Southern megaregion: Clemson University
Sun Corridor megaregion: University of Arizona
Texas Triangle megaregion: University of Texas, Austin
Centers serving rural areas: Montana State University, University of Alaska-Fairbanks, and Michigan Tech University
More details on the Beyond Traffic 2045 report and the full list of Beyond Traffic Innovation Centers are available at: www.transportation.gov/beyondtraffic.