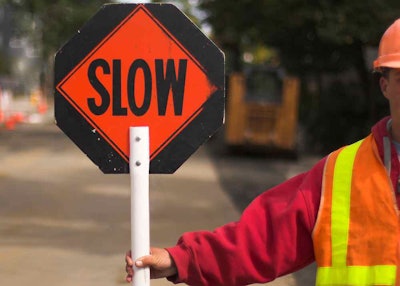 According to an Associated Press report, a construction worker directing traffic at a road construction project in Pasadena, Maryland, was struck and killed Monday. The police department stated that the victim, 58-year-old Rodney Chase, was directing traffic on Fort Smallwood Road using a stop/slow sign when a Jeep driven by 32-year-old Jason Disney hit him. Chase was pronounced dead at the scene.
The Maryland State Highway Administration offered its condolences to Chase's family, friends, and co-workers. "We mourn the loss of a member of our extended contracting family in a tragic incident on Fort Smallwood Road near Pasadena. We extend our heartfelt condolences to Mr. Chase's family, friends, and coworkers," State Highway Administrator Gregory C. Johnson, P.E. said, according to the Anne Arundel Patch.
"This is an unfortunate reminder of how dangerous highway work can be, particularly when workers' only protection is a hardhat and reflective vest," Johnson said in a statement, according to the Anne Arundel Patch. "While this crash remains under investigation, it is critical to remind motorists of the paramount role they have in safeguarding the lives of our workers. Drivers need to slow down and remain alert in work zones — work zone safety is in your hands."
Investigation into the cause of the incident is ongoing, but the preliminary cause appears to be excessive speed and failure to follow traffic direction. Any charges against Chase will be determined by the state's attorney.