The South Carolina Department of Transportation (SCDOT) is seeking public input on the agency's 2016 Updated Public Participation Plan (PPP) that includes involvement in the Statewide Multimodal Transportation Plan and the Statewide Transportation Improvement Program.
"Feedback from the public will help shape the process in which SCDOT engages all interested parties and incorporates their input in transportation planning activities for South Carolina," the agency says. "A summary of the comments received will be provided to the SCDOT Commission for consideration."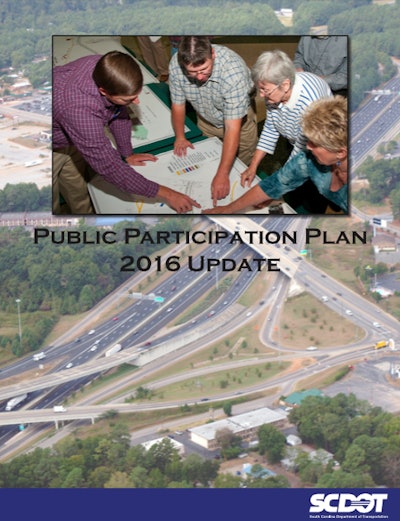 The PPP is updated every five years "to ensure its effectiveness." The five "planning and development objectives" of the plan include:
Solicit public participation in each phase of the statewide planning process. "Participation starts with early and continuous involvement in important policy or project decisions before they are finalized. In South Carolina, the comprehensive plan starts with early coordination and input from stakeholder groups. SCDOT coordinates with MPOs and COGs to develop local
and regional plans and programs that solicit public participation at the local level. As drafts and revisions are developed for plans and programs, the public is encouraged to provide comments that are considered prior to any final approval by the SCDOT Commission."
Seek broad identification and representative involvement of stakeholders and users of
all transportation modes.
"SCDOT's customer base includes not only the general public and federal, state, local and tribal units of government, but businesses, industries, and transportation service providers as well as organizations that represent people with specific transportation needs. SCDOT has developed strategic partnerships with consultation parties to maximize the distribution of information and solicitation of comments."
Utilize effective and equitable avenues for distributing information and receiving comments.
"In addition to standard notifications and solicitations for comments, SCDOT uses minority media outlets in an effort to reach traditionally underserved stakeholders. Comments are received through standard mail as well as electronic mail and SCDOT's internet site."
Provide educational materials and design participation initiatives that will support and encourage effective participation.

"Effective participation in the transportation decision-making process requires an understanding of transportation issues and the framework for making transportation investment decisions. Visualization techniques such as videos, posters, maps, and pictures can be especially helpful for describing the plan and program development."
Support and encourage continuous improvement in the methods used to meet the public need for information and involvement.
"Public information and involvement methods are continually evolving. SCDOT is committed to periodic review and evaluation of its public participation process. This ranges from soliciting comments on the process to analyzing the data from comments received to consulting with other Departments of Transportation on the effectiveness of their public participation plans."
The plan is available here, and comments can be submitted to https://www.scdot.org/inside/public_comment.aspx until Aug. 5.