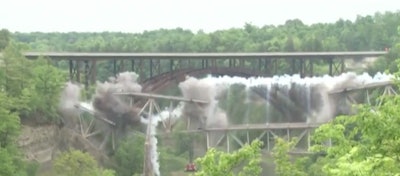 Earlier this month, the New York State Department of Transportation oversaw the implosion of the old Route 219 bridge over Cattaraugus Creek in Springville, N.Y.
According to a report by WIVB TV, the bridge was imploded to make room for a $16.9 million design-build project to replace the bridge with a modern structure. Construction of the new bridge is expected to be completed by June 2017.
Approximately 35 pounds of explosives were used to bring down the steel bridge in just three seconds. In preparation for the blast, crews removed the concrete decking and left exposed trusses to create a controlled explosion. Traffic was halted in a 1,000-foot radius around the bridge, and the creek was blocked off for boater safety.