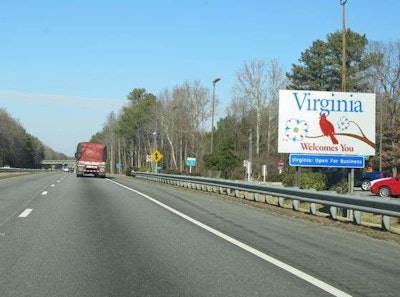 Virginia's Commonwealth Transportation Board (CTB) has approved the state's six-year improvement program (SYIP) which will apply $14.4 billion for transportation projects for six fiscal years beginning July 1 this year.
The Virginia Department of Transportation (VDOT) says the SYIP will fund more than 3,200 projects including highways, bridges, rail, transit and bicycle/pedestrian paths. The program includes, for the first time, projects that were scored and approved for full funding by the SMART SCALE, a prioritization process the Virginia legislature passed two years ago. The CTB approved the process a year ago.
Over the six-year period, $10.7 billion of the funding will be dedicated to highway construction, with the remaining $3.7 billion to be used for rail and public transportation projects. A list of all the projects is available here.
The CTB also has approved VDOT's fiscal year 2017 budget, set at $5.35 billion. Highway maintenance makes up almost 40 percent of the total, with roughly 35 percent set aside for highway construction. Road maintenance and operations, including city and country street payments, is set at $2.13 billion, construction gets $1.87 billion, $496.1 million is dedicated to the Northern Virginia and Hampton Roads regions for local and regional transportation projects and $352 million is set for debt service.
The 2017 budget is marginally more than fiscal year 2016 (0.8 percent higher) and VDOT attributes the increase mostly to additional federal funding/revenue dedicated to the Highway Maintenance and Operating Fund.