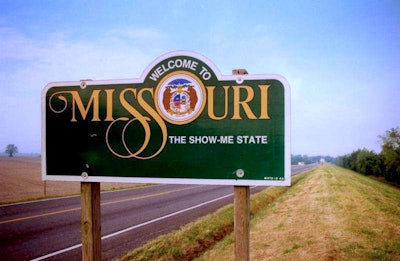 Missouri Department of Transportation (MoDOT) engineer Tom Blair recently told the Missouri Highways and Transportation Commission (MHTC) the department is ready to move forward on five pilot projects for its Road To Tomorrow initiative.
MoDOT announced the initiative last year, in which it is turning Interstate 70 between Kansas City and St. Louis into a "laboratory for construction of the next generation of highways" for private entities to test out new technologies.
The pilot projects under review include:
Grants – MoDOT has completed two federal grant applications, one for a 2016 TIGER Grant that would fund a "smart pavement" project in the Kansas City region, and another for a Surface Transportation System Funding Alternatives grant that would examine new sustainable funding sources.
Truck Platooning – As a result of legislation passed by the General Assembly this session (now awaiting the Governor's signature), MoDOT will move forward with a pilot project to test the concept on Missouri highways. Platooning is wireless connectivity between commercial trucks that would allow for the second truck to follow at a close distance for better fuel economy and enhanced safety. Motor Carrier Services Director Scott Marion, in collaboration with the Missouri State Highway Patrol and the Missouri Trucking Association, is leading the rule-making process to determine how the pilot project will be implemented.
Internet of Things Broker – MoDOT has issued a request for proposals (RFP) for an "Internet of Things" broker. The broker would respond to the demand for devices/networks on our right of way. The "Internet of Things" allows for connecting devices and vehicles using electronic sensors and the Internet. Technology can be used for such things as smart traffic control, safety and road assistance. Right of Way Director Kelly Lucas is leading this effort.
Smart Pavement Request for Proposals – MoDOT is developing an RFP for a pilot project to install "smart pavement" for testing at a location to be determined. Smart pavement would feature sensors and systems that provide, enable and support vehicle-to-infrastructure, and infrastructure-to-vehicle connected vehicle technologies and services. The intent of smart pavement is to provide a suite of digital, communication and information services to MoDOT, motor carriers and other commercial fleet operators and private drivers on a subscription basis to enable sustainable, self-funded infrastructure assets for public owners. Brian Burger, a resident engineer in the Kansas City District, is leading this project.
Solar Roadways Pilot Project – MoDOT will be launching a "Solar Roadways Pilot Project" at the Conway Welcome Center on I-44 in Laclede County. Solar panels will be installed on sidewalks to test their potential for generating heat to melt snow and for generation of electricity for other purposes. MoDOT will allocate $100,000 of dedicated research funds as "seed money" to install the solar panels and will use "crowd sourcing" to attract funds to recover seed money and expand scope of the project if it is successful. Laurel McKean, assistant district engineer in the Southwest District, is leading this project.
Video of Blair's presentation to the MHTC is included below.
[youtube https://www.youtube.com/watch?v=kGrlRUDSEgs]