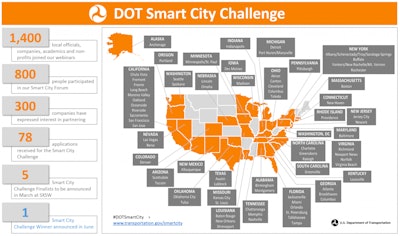 Transportation Sec. Anthony Foxx this week is visiting the seven finalists for the Smart City Challenge, a program designed to convert one city into the first in the nation to fully integrate technologies, such as smart sensor and connected vehicles, into their transportation system.
He will participate in roundtable discussions with local leaders at each city in preparation for their final proposal submissions due May 24.
The U.S. Department of Transportation (USDOT) is pledging up to $40 million to the winning city for the transportation technology and Paul G. Allen's Vulcan Inc., intends to award up to $10 million to the winning city to "support electric vehicle deployment and other carbon emission reduction strategies."
The finalist cities, announced in March, include Austin, Texas; Columbus, Ohio; Denver, Colorado; Kansas City, Missouri; Pittsburgh, Pennsylvania; Portland, Oregon; and San Francisco, California.
Foxx began his tour May 16, visiting Pittsburgh and Columbus. He continues May 17 at Austin and Denver, followed by San Francisco and Portland May 18 and finishing May 20 in Kansas City.
"As we enter the final weeks of the Smart City Challenge, I'm incredibly excited to meet with local leaders to learn more about their unique visions for the future of their cities," Foxx says. "I look forward to hearing about the transportation challenges that they are facing and learning their ideas to tackle them."
In addition to Paul G. Allen's Vulcan Inc., five other organizations have signed up to partner with the USDOT on the Smart City Challenge. These companies, along with their contributions, include:
Mobileye – The company will equip the winning city's public bus system with their Mobileye's Shield +TM on every bus which helps bus drivers avoid and mitigate imminent collisions and protect road users including bicyclists, pedestrians and motorcyclists.
Autodesk – Finalists will receive access to (and training on) Infraworks 360, a modeling platform that uses 3-D visualizations and real-world data to plan major engineering projects.
NXP – The company plans to provide the winning city with wireless communication modules that allow cars to securely exchange data, such as hazard warnings, over distances of more than a mile to prevent accidents and improve traffic flow.
Amazon Web Services (AWS) – The group will act as USDOT's cloud service partner and will provide solution architecture and best practices guidance to the finalists to help them leverage AWS services for Smart City solutions, as well as award $1 Million of credits to the Challenge winner for AWS Cloud services and AWS Professional Services.
Alphabet's Side Walk Labs – DOT, Sidewalk Labs and the seven Smart City finalists will partner to design Flow, the first platform that can shape transportation outcomes using analytics and citizen engagement. Flow will offer unprecedented city-wide transportation analytics to help cities understand congestion and identify areas underserved by transit, using aggregated, anonymized data from billions of miles of trips. In addition to building a mobility platform, Sidewalk Labs will install over 100 kiosks in four neighborhoods (approximately 25 blocks) of the winning city.
USDOT expects to award the winning city in June this year. More details about the Smart City Challenge are available transportation.gov/smartcity.