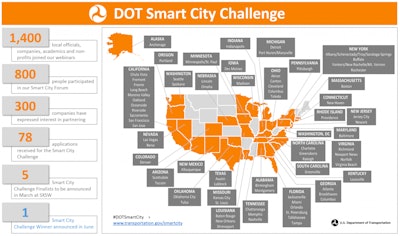 Seven cities have been named as finalists for the U.S. Department of Transportation's (USDOT) Smart City Challenge, which aims to convert one city into the first in the country to "fully" integrate into their transportation network technologies including smart sensors and autonomous and connected vehicles.
Originally, only five finalists were to be selected. The seven finalist cities include: Austin, Texas; Columbus, Ohio; Denver, Colorado; Kansas City, Missouri; Pittsburgh, Pennsylvania; Portland, Oregon; and San Francisco, California.
USDOT is pledging up to $40 million to the winning city for the transportation technology and Paul G. Allen's Vulcan Inc., intends to award up to $10 million to the winning city to "support electric vehicle deployment and other carbon emission reduction strategies."
The finalists will receive a $100,000 grant in the next phase of selection to develop their proposals with details on how they plan to integrate transportation technologies in their city.
"After an overwhelming response—78 applications total—we chose to select seven finalists instead of five because of their outstanding potential to transform the future of urban transportation," Transportation Secretary Anthony Foxx said in announcing the finalists. He revealed the names of the seven cities at the C3 Connected Mobility Showcase during the South by Southwest (SXSW) conference in Austin.
"The creativity and determination of the applicants to envision a greener future represents the best of American ingenuity. It is this kind of belief in the power of new ideas that drives Paul Allen's commitment to solving some of the world's greatest challenges," said Barbara Bennett, President and COO of Paul G. Allen's Vulcan Inc. "As the Smart City Challenge's philanthropic partner, we hope to catalyze a transportation transformation across the country that will dramatically drive down emissions from this leading source of carbon pollution."
Foxx also announced at SXSW a partnership with Amazon Web Services (AWS), which will provide "solution architecture and best practices guidance" to the finalists to help them leverage AWS services for Smart City solutions. AWS also will provide $1 million in credits to the winning city for AWS Cloud services and AWS Professional Services.
Additional partners joining the Smart City Challenge and the services they will provide include:
Mobileye — to provide its Shield + on every bus in the winning city's public bus system to help drives avoid and mitigate imminent collisions and protect bicyclists, motorcyclists and pedestrians.
Autodesk — to provide access to and training on InfraWorks 360 for 3-D visualizations and real-world data to plan major engineering projects.
NXP — to provide wireless communication modules that allow cars to exchange data securely over distances greater than one mile. Such data would include hazard warnings and would help prevent accidents and keep traffic flowing smoothly.
USDOT says the winning city will be announced in June this year. More details about the Smart City Challenge program are available at www.transportation.gov/smartcity and the list of cities that applied are available here.