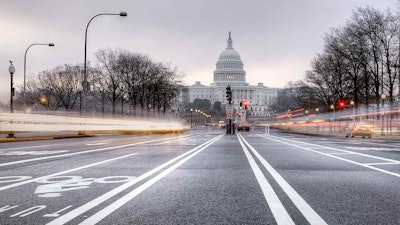 The 2016 Infrastructure Week kicks off today in Washington, D.C., with an event featuring business leaders as well as current and former leaders within the U.S. Department of Transportation and other federal agencies discussing the importance of infrastructure strength to the U.S. economy, health and safety.
Members of the Infrastructure Week Steering Committee also will be in attendance at the event highlighting the "Infrastructure Matters" theme at the U.S. Chamber of Commerce's offices. A live webcast will be available here.
The Steering Committee is made up of members of the American Society of Civil Engineers, Building America's Future Education Fund, National Association of Manufacturers, U.S. Chamber of Commerce, AFL-CIO, Brookings Institution's Metropolitan Policy Program, and Value of Water Coalition.
"Our theme in 2016—"Infrastructure Matters"—tells the story of what infrastructure means to Americans," the group says. "It matters, in big ways and in small, to our country, our economy, our quality of life, our safety, and our communities. Roads, bridges, rails, ports, airports, pipes, the power grid, broadband… infrastructure matters to the goods we ship and the companies that make and sell them; it matters to our daily commutes and our summer vacations, to drinking water from our faucets, to the lights in our homes, and ultimately to every aspect of our daily lives."
The second annual Infrastructure Advocacy Day will be held all day May 18. This event is intended for Infrastructure Week affiliate and partner members, business and labor leaders, mayors, city-council members and state legislators a day to talk with members of Congress "on the impacts of policies and legislation germane to their jurisdiction, industry or focus area."
More details on Infrastructure Week, including a calendar of events, is available at infrastructureweek.org.