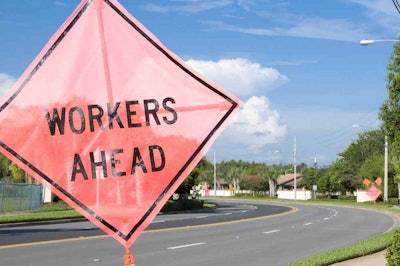 Missouri Department of Transportation employee Lyndon D. Ebker, 55, was struck and killed by a vehicle Thursday while flushing bridges on eastbound Route 100 near Buchheit Road on the outskirts of St. Louis.
According to the St. Louis Post-Dispatch, Ebker's crew posted signage identifying the work and parked a dump truck fitted with an attenuator in the eastbound lane of Route 100. The driver of a vehicle swerved to miss the dump truck and then struck Ebker.
Ebker, a senior maintenance worker, had worked at MoDOT for more than 30 years, serving as a construction inspector from 1983 to 2013. He retired in on Feb. 1 that year, but then came back to the agency three days later to work in maintenance.
"Our sympathy and prayers go out to Lyndon's wife and family," says Greg Horn, MoDOT's St. Louis District Engineer. "Our hearts are heavy, too. He has lots of friends here and will be missed. Lyndon was a valuable employee and had a long history with MoDOT."