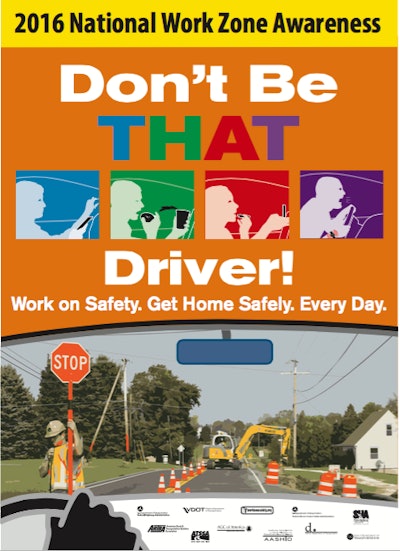 This year's theme for National Work Zone Awareness Week (NWZAW), set for April 11-15, is "Don't be THAT Driver: Work on Safety. Get Home Safely. Every Day."
The Ohio Department of Transportation (ODOT) will host the kick-off event for this year's program near the 32-mile I-75 widening project outside of Toledo on April 12 at 10 a.m.
April 13 is the annual Go Orange Day, at which time the American Traffic Safety Services Association (ATSSA) encourages roadway safety professionals to wear orange in support of NWZAW. ATSSA also wants those wearing orange to post photos on social media using the hashtags #OrangeforSafety and #NWZAW.
The program was created in 1999 as a means of highlighting hazards for both workers and motorists in road construction zones. The American Road & Transportation Builders Association (ARTBA), a member of the NNWZAW executive committee, says an average of nearly 600 people are killed in road work zone sites each year, with roughly 30,000 being injured. About 120 of those killed each year are road construction workers.
ARTBA offers the following tips for motorists when driving through or near road construction zones:
Pay attention to the work zone and speed limit signs.
Be extra vigilant because the traffic pattern will be different than normal.
Be patient. The work will make your travel much better in the future.
Respect the workers. They are doing their job to improve your commute.
Don't drive impaired or distracted. No phones. No texting. No drugs. No alcohol. Plenty of sleep.
The ARTBA Transportation Development Foundation has also created a National Work Zone Safety Information Clearinghouse at www.workzonesafety.org. The site offers accident and crash data, flagging, emerging technologies and equipment, best practices, laws and regulations, safety standards, research publications and training videos.
Previous NWZAW themes included:
2015: "Expect the Unexpected."
2014: "Work Zone Speeding: A costly Mistake."
2013: "We're All in this together."
2012: "Don't Barrel Through Work Zones! Drive Smart to Arrive Alive."
2011: "Safer Driving. Safer Work Zones. For Everyone."
2010: "Work Zones Need Your Undivided Attention."
2009: "Drive to Survive – Our Future is Riding On It!"
2008: "Slow For the Cone Zone."
The NWZAW executive committee consists of ARTBA, ATSSA, Federal Highway Administration, American Association of State Highway Transportation Officials, Federal Motor Carrier Safety Administration, Associated General Contractors, Virginia Department of Transportation, Maryland Department of Transportation and Delaware Department of Transportation.