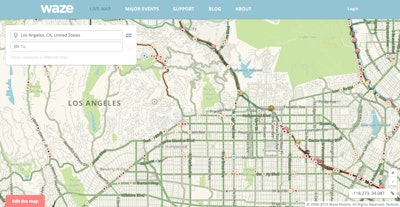 The California Department of Transportation (Caltrans) has partnered with the crowdsourced navigation app Waze and will contribute to the company's Connected Citizen's Program.
In this move, Caltrans joins a growing list of state departments of transportation sharing data with Waze. These include Nebraska, Tennessee, Pennsylvania, Maine, New Hampshire and Vermont.
"Combining the real-time anonymous data from Waze, sourced from drivers themselves, with Caltrans' vast network of traffic management systems is a win-win for California drivers," says Caltrans Director Malcolm Dougherty.
Waze will share with Caltrans traffic and incident report data from active monthly Waze users. The company estimates there are 1.7 million in Los Angeles and 678,000 in San Francisco. Caltrans will share with Waze its road condition reporting data and construction and road closure information.
More details about the Waze Connected Citizens program is available at https://www.waze.com/ccp. The Waze app is free and available for iOS and Android platforms at https://www.waze.com/.