The Mississippi Department of Transportation (MDOT) celebrated its 100th birthday on March 29, MS News Now reports. In celebration of 100 years, a time capsule was buried during a special ceremony held outside MDOT's administration building in Jackson.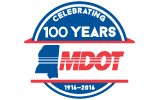 The capsule, set to be opened in 50 years, contains items that will give future generations a glimpse of what MDOT and the state of Mississippi looks like today. The ceremony reflected on the past century of transportation history in Mississippi, including the creation of the Mississippi State Highway Commission on March 29, 1916, which became MDOT in 1992.
"Those that came before us did an unbelievable job building the system that we have," Central MS Transportation Commissioner Dick Hall tells the news agency. "Now we've got to figure out a way to maintain this system and bring it back up to where it needs to be."
Learn more about MDOT's 100-year history at MDOT, Celebrating 100 Years, 1916-2016.