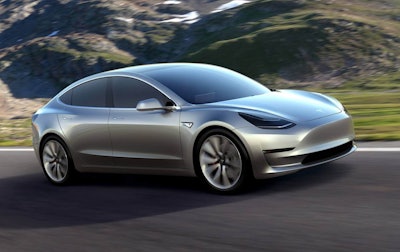 With many pundits calling it the U.S electric car manufacturer's most important product to date, Tesla this past weekend unveiled the highly anticipated Model 3. And if pre-orders are any indication of how the car will change the landscape of Amerian highways, the shift to electric may soon be upon us.
Though hybrids and cars with fully-electric drivetrains have been around for nearly two decades, the higher cost of these vehicles coupled with the limited charging infrastructure and low mileage range of the fully electric models, has prevented them from taking over American roads.
Tesla's Model 3 looks to change all of that. The car starts at $35,000 (though CEO Elon Musk anticipates the average Model 3 to sell for closer to $42,000), has a healthy range of 200+ miles per charge and boasts technology features and a 0 to 60 time of only 6 seconds sure to make many car lovers drool.
And drooling they are. After 115,000 customers put down a deposit of $1,000 to reserve a Model 3 of their own Friday, that number more than doubled in the following 24 hours with Musk reporting more than 275,000 pre-orders as of Saturday night on his Twitter account.
According to a report from CNBC, one Carnegie Mellon professor says Tesla may have sold more Model 3s "in one day than the entire U.S. plug-in auto industry in 2015."
If those pre-orders turn into actual purchases, the car company will have secured more than $7.5 billion over a single weekend and what is likely the most successful direct sales campaign in the history of automobiles. That's not just unheard of for an electric car company, that's unheard of for any car company.
Which brings us back to the word "important." If these sales pan out, the Model 3 might just be the car that necessitates more charging stations be built along U.S. highways while also forcing the automotive industry to focus more of its attention on improving the electric drivetrain and bolstering battery technology—the primary hindrance to the electric automobile's success.
Of course, Tesla first has to build and deliver these hundreds of thousands of Model 3s. And we're still about 18 months away from the car maker expecting the first units to roll off the assembly line. That means for many of those pre-orders, customers could be waiting as many as 2 and a half years to take delivery of their new car. In light of this, there are many who doubt Tesla will be able to turn even half of these pre-orders into actual sales.
And while that might very well be true, what that theory leaves out is a lack of an alternative. There is nothing like the Model 3 being offered on the market. Even Chevrolet's recently announced Bolt EV pales in comparison to the Model 3's specs and won't carry the connotation of a luxury automobile Tesla has been able to achieve in its short time on the market.
And even if many of these Model 3 pre-order customers jump ship for another EV, that actually fulfills a dream Musk has had since starting Tesla. In 2014, the company made all of its patents open source in the hopes that other car companies would take a look and jumpstart their own electric drivetrain development. Much of Tesla's efforts up until this point haven't just been about building a great electric car but about building the electric car industry.
Toyota's Prius hybrids laid the foundation for consumer aceptance of electric cars. In recent years, Tesla's Model S convinced critics and skeptics alike that an electric automobile can be a luxurious, safe and extremely fun car to drive. The Model 3 might just be the car that lays to rest whatever lingering objections are left.