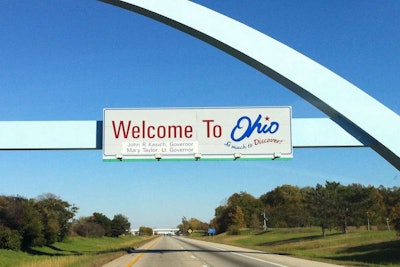 The Ohio Department of Transportation (ODOT) reports it will work on roughly 1,100 new transportation projects in 2016 at a value of $2.1 billion.
"We're charged with the care of Ohio's largest man-made asset—the transportation network," says ODOT Director Jerry Wray. "We take this very seriously, because investments in our infrastructure are vital to Ohio's economic growth and development. By maintaining a safe, reliable, and efficient system, we help to create the environment for more jobs, easier commerce, and a stronger Ohio—for today and for tomorrow."
Of the total construction budget, $207.1 million is dedicated to expanding roads to address congestion. Safety projects will make up 157 of the 1,100 new projects, at a cost of $256.4 million.
The construction budget includes $629.3 million for improving 6,485 miles of pavement, and $417.5 million for work on 1,167 bridges. Approximately 90 percent of the construction budget is dedicated to taking care of existing bridges and roads.
ODOT says this year it is implementing a new strategy to improve its preservation work that incorporates data, using a broad range of preservation treatments and unifying the work plans of the agency's planning and maintenance divisions.
"In order to take care of our transportation network, we have to accurately measure it," Wray says. "That information helps us determine the right actions to take, at the right time, and in the right places, for everything from replacing a culvert on a two-lane state road to adding lanes to an interstate. With greater consistency and collaboration across the state, we are making sound business decisions on behalf of Ohio."
The agency estimates this preservation plan will create savings of roughly $300 million that can be redirected back into safety, capacity and preservation projects over the next six years.
In light of all these new projects, ODOT is asking motorists to remember to drive carefully in work zones. In 2015, the state saw the highest number of work zone crashes, 6,035, than had been seen in 10 years. Thirty deaths and 1,150 were injuries attributed to those crashes.