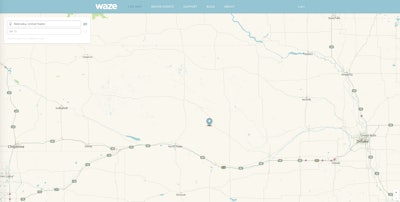 The Nebraska Department of Roads (NDOR) will partner with Waze to share data as part of the crowdsourced navigation app's Connected Citizen's Program, following the same steps made by Tennessee, Pennsylvania, Maine, New Hampshire and Vermont.
"We are excited to partner with Waze to share information across platforms," says NDOR Director Kyle Schneweis. "Sharing of this real time information will be of great benefit to our customers, the motorists on our roadways. We look forward to continuing this partnership in the future."
The Connected Citizens Program will give NDOR a look at real-time road activity via Waze-generated incident and slow-down information directly from drives. The agency in exchange will provide real-time government-reported construction, crash and road closure data to Waze.
"Waze is only as strong as the information it receives from its users," says Paige Fitzgerald, Connected Citizens Program Manager at Waze. "The Connected Citizens Program is a natural evolution for Waze as we already enable and empower drivers and are now bringing entire cities that same level of connectivity. The immense data the Department of Roads can contribute to the Waze app makes them a valued partner moving forward."
More details about the Waze Connected Citizens program is available at https://www.waze.com/ccp. The Waze app is free and available for iOS and Android platforms at http://www.waze.com.