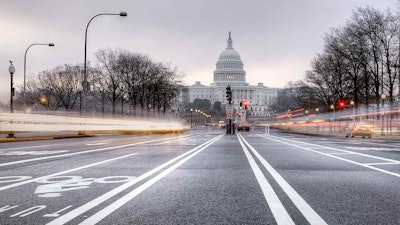 At least one committee in the U.S. House of Representatives has signaled it's ready to make a move on a transportation bill by putting a markup on the schedule for next week.
House Transportation and Infrastructure Committee Chairman Bill Shuster (R-Pennsylvania) announced in a press release that the committee has scheduled a markup of surface transportation reauthorization legislation for Octover 22, just a week before the Highway Trust Fund is set to expire.
"Our Nation's economy depends on a safe, efficient surface transportation system, and one of the Transportation Committee's priorities is to address the needs of the system," Shuster said. "Next week, the Committee will move forward with the policy and authorization provisions of a bill to improve America's surface transportation infrastructure, reform programs, refocus those programs on national priorities, provide more flexibility and certainty for state and local partners, and welcome innovation."
The Highway Trust Fund was extended with a short-term patch for the 34th time since 2008 back in July. Congress has been unable to pass any transportation bill that lasts more than two years since 2005, but lawmakers on both sides of the aisle have been calling for something more long-term like the Senate's six-year DRIVE Act, which the House has yet to act on.
The prospect of representatives finding common ground to pass a much-needed highway bill before the October 31 deadline seems slim after Speaker of the House John Boehner resigned with no replacement in line. The Highway Trust Fund could technically remain solvent through the third quarter of 2016, but the U.S. Department of Transportation would have to halt all new project authorization.