Nearly three-fourths of Americans are ready for Congress to finally increase the amount of money that gets spent on roads and bridges, according to a new poll from AAA.
The poll found 70 percent of Americans are in favor of the federal government spending more on the country's infrastructure. Moreover, only 38 percent think Congress is doing enough to make sure roads, bridges and mass transit systems are satisfactory.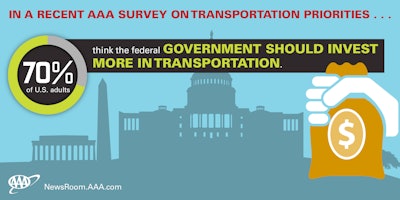 "Americans rely on our nation's roads and bridges every day, yet Congressional inaction has led to longer commutes, more potholes and unsafe conditions," AAA president and CEO Marshall Doney said. "Motorists are dissatisfied that our national leaders repeatedly have failed to meet the basic needs of drivers across the country."
The Highway Trust Fund was extended with a short-term patch for the 34th time since 2008 back in July, but lawmakers on both sides of the aisle have been calling for something more long-term like the Senate's six-year DRIVE Act, which the House has yet to vote on. But as Congress scrambles to find a replacement for Speaker of the House John Boehner, who recently announced his resignation, the prospects for a long-term transportation bill this year have become even slimmer.
The AAA poll also found 91 percent of Americans think routine maintenance on roads and bridges is important. Another 67 percent think it's important to conduct traffic safety training programs, 65 percent said it was important to reduce traffic congestion by expanding lanes, and 64 percent said it was important to invest in transportation information technology.
"Potholes and bad roads increase driver stress and can cause significant vehicle damage requiring costly repairs," Doney said. "It's time for Congress to pass long-term funding legislation that ensures our transportation system receives the maintenance necessary to get Americans to work every day."
Just over 1,000 American adults were surveyed via telephone for the poll, and the results have a 3.1 percent average statistical error at 95 percent confidence.