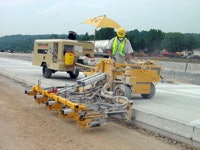 E-Z Drill offers a line of multi-gang slab-rider drills for accurate concrete drilling from an easily maneuverable machine. The series consists of three self-propelled models: the three-gang Model 210-3 SRA, four-gang Model 210-4 SRA and five-gang Model 210-5 SRA.
The compact frame design allows each drill to operate in a 4-foot patch while drilling to within 6 inches of a corner. The bits drill to a standard 18-inch depth, and each unit can be adjusted easily to drill into the center of a 24-inch slab. Adjustable spacing can be set between 12 and 36 inches, with greater width settings available through custom orders.
The pneumatic drills, which are powerful enough to tow the air compressor with an optional tow-bar assembly, feature an internal regulator to prevent breakage caused by high-pressure spikes. When used with the tow bar kit, the SRA models eliminate the need for an additional vehicle. This enables one person to drill, move the machine and tow the compressor, saving on labor and fuel costs. Additionally, a patented tri-steering feature simplifies maneuverability as the machine can rotate within its own radius without needing to be disconnected from the air compressor.
An auto-alignment feature allows the units to be quickly repositioned after each hole set, resulting in the ability to drill more holes in a single day than competitive units. Furthermore, productivity is ensured with E-Z Drill's patented roller bearing feed system, which provides for friction-free drilling. Each model also features an individual regulator that allows the operator to set the optimum drilling speed for each drill. Designed with productivity in mind, all E-Z Drill units use quick-release bit guides for fast changes with any bit style. Quick coupler air fittings and easily replaceable carriages lessen downtime for repairs.
Slab-rider drills reference from the top of the concrete slab, which provides for optimum accuracy and eliminates disturbance of the subgrade – a key requirement in many state contracts. An optional on-grade conversion kit makes the slab rider models more versatile for varying applications since it can reference from the subgrade when the top of a slab is not available. For additional versatility, the slab-rider models can drill vertically after just a few adjustments. This makes the machine useful for mud jacking and under-sealing applications.
A number of features built into the slab rider models contribute to durability and long service life. Multi-point oil injection allows each drill to be lubricated individually from a single reservoir so that each drill always has the proper amount of oil. This helps the drill motor last longer than with a central oiling system, which doesn't offer individual lubrication adjustments. An automatic drill shutoff further extends each drill's life by preventing "dry-firing." Foam-filled tires with heavy-duty spindles eliminate flat tires and prevent breakage.
For operator safety, E-Z Drill features carriage locks to keep the drills and bits in place when the air supply is off or disconnected. Additionally, auto-locking air couplers keep the air supply hose on the drill coupling without the connection being manually pinned. A lifting point built onto each unit ensures the drill is balanced when being loaded and unloaded.
Established in 1987 after creating a solution to slow, handheld rock drills, E-Z Drill now manufactures lines of slab rider drills, on-grade models and equipment-mounted drills, as well as vertical utility models and concrete drilling accessories, such as dust-collection systems and cure trailer sprayers. E-Z Drill also can custom design and build automatic drill systems for customers' specific jobs. For more information on E-Z Drill's complete line of concrete drilling and doweling equipment, contact E-Z Drill, P.O. Box 517, 4615 W. Lakeview, Stillwater, Okla. 74076, call 800-272-0121, fax 405-372-1429, e-mail sales@ezdrill.com or visit the website www.ezdrill.com.