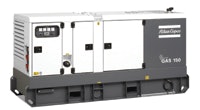 The Atlas Copco Construction Equipment QAS 150 portable generator is designed for extreme weather conditions. Enclosed in a zincor-coated steel canopy and skid-mounted on a standard, sealed, spillage-free frame, the generator features a 6-cylinder John Deere Tier 4A diesel engine with 169 horsepower at 1800 rpm.
The Atlas Copco QAS 150 generator offers 125 kW / 155 kVA of rated standby power and 112 kW / 140 kVA of rated prime power. The unit's sound pressure level at 23 feet at 75-percent load is rated at 71 db (A). With a 223-gallon capacity fuel tank, the QAS 150's fuel consumption at 75-percent load is 7 gallons per hour.
The QAS 150 generator is designed for ease of maintenance and service. A comprehensive instrument panel enables all key operating functions to be viewed without opening the control panel door, and analog gauges provide at-a-glance monitoring. The machine is engineered for 500-hour service intervals and has been manufactured in accordance with ISO 9001 quality assurance regulations.
The skid-mounted version measures 133 in. long, 76 inches high, 47 inches wide and weighs 7,484 pounds. The trailer style measures 191 inches long, 92 inches high, 84 inches wide and weighs 8,541 pounds.