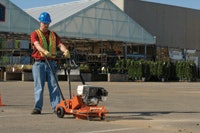 Designed to follow random crack patterns in asphalt and concrete surfaces, General Equipment Co.'s CS8/GH Random Crack Saw uses a 8-inch diameter, dry cut-type diamond blades to produce smooth-sided cuts for proper crack filling procedures.
Power is supplied by an 11-horsepower Honda engine equipped with a Cyclone-type air filter system for maximum protection against fine-grained dust contamination. An available propane engine conversion allows use in confined areas where gasoline exhaust fumes are not permissible.
A center-mounted blade configuration lets the CS8/GH center pivot about its own axis to more easily follow random crack patterns. The configuration is intended to maximize blade life by minimizing undercutting. Maximum cutting width is 1/2 inch and maximum straight-line cutting depth is 1-1/2 inches.
Other standard features include an infinitely adjustable blade-height control with quick-release lever and 3-inch diameter vacuum port for dust control. An optional water mist control system can be used for wet sawing applications.
In business for more than 50 years, General Equipment Co.is a family-owned manufacturer of earth augers, ventilation blowers, asphalt cutters and surface preparation equipment. For more information, contact General Equipment Co., 620 Alexander Drive S.W., Owatonna, MN 55060, call 507-451-5510 or 800-533-0524, fax 507-451-5511 or 877-344-4375, or visit the Web site at www.generalequip.com.