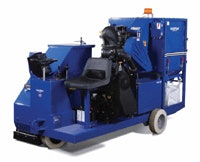 The new Blastrac trouble-free hydraulic drive system, offering better productivity when cleaning and preparing concrete or steel surfaces. The 1-16DB4 shot blaster strips,cleans and profiles simultaneously and is ideal for ship decks, parking garages, industrial plant and warehouse floors, bridge and highway work, and airport runways−improving macro and micro texture.
The 1-16DB4 will remove paint, rust, marine growth, and mill scale from steel; and removes paint and pavement markings from asphalt, and prepares concrete for re-coating or application of overlays.
Available blast-pattern adapter reduces the blast width for very effective line stripe removal. A quieter on-board vac offers easier debris disposal with its new "twin-bag" dust collection system. The airborne dust and contaminants are efficiently contained, prohibiting their re-introduction into the surrounding environment, ready for quick removal.
The new 1-16DB4 is an excellent, cost-effective and environmentally friendly choice for jobs with medium to large shot blasting requirements, according to Blastrac.