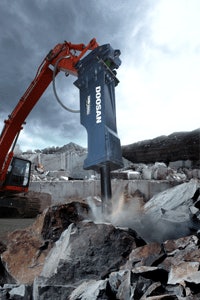 The Doosan DXB260H hydraulic breaker features two-speed control of breaker frequency for improved efficiency in demanding demolition and rock-breaking applications.
Delivering up to 600 blows per minute, the 5,400-pound DXB260H is designed for use with excavators in the 27-to-37-metric-ton weight range, specifically the Doosan DX300LC and DX350LC. Rated in the 8,000 ft.-lb. impact energy class, the DXB260H requires a hydraulic flow rate of between 39.5 and 63.5 gallons per minute.
With two speeds, the DXB260H breaker frequency can be easily adjusted between short and long stroke settings. This allows the operator to match the breaker frequency to the ground conditions for optimized productivity.
Standard features include a cradle-mounted grease station and blank fire protection. The cradle-mounted grease station delivers continuous grease flow, reducing bushing and tool wear while minimizing maintenance costs and downtime. Blank fire protection uses a cushion of oil at the base of the cylinder to reduce metal-to-metal contact.
The breaker's suspension system extends excavator workgroup life by absorbing harmful vibrations and stress waves. Also, a patented main valve design reduces hydraulic pressure peaks that can reduce pump life, crack excavator workgroup welds and cause system overheating. Finally, an energy recovery system on the DXB260H increases strike power by using energy generated by piston rebound.
The DXB260H breaker comes with a mounting cap, auxiliary hydraulic hoses, cradle-mounted greaser, two moil points, toolbox and a nitrogen checking device. A one-year warranty is standard.
In addition to the general purpose moil, tools available for the DXB260H include a blunt tool, a chisel and a pyramidal or "nail" tool.
ABOUT DOOSAN INFRACORE CONSTRUCTION EQUIPMENT AMERICA
Doosan Infracore Construction Equipment America, headquartered in West Fargo, N.D., markets the Doosan brand of products which includes large excavators, wheel loaders and articulated dump trucks. With more than 100 heavy equipment dealer locations in North America, Doosan is known for an unmatched dedication to service and customer uptime, and durable, reliable products. Doosan is fast becoming a global force in heavy construction equipment. For more information on Doosan products, visit https://na.doosanequipment.com/en.