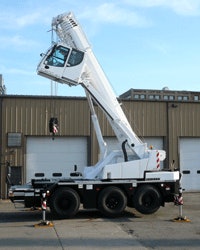 The innovative Liebherr LTC 1045-3.1 city crane makes its US debut this week on the streets of Boston in the fleet of leading crane rental company AmQuip.
The ultra-compact design of this model, coupled with the movable cab, were the key driver's behind AmQuip's purchasing choice.
Rated at 50-ton capacity (45 metric tonnes), the three-axle crane has all terrain capability, for on and off highway travel, but is also compact enough for industrial applications inside warehouses and production halls.
Unlike conventional all terrain cranes, the LTC 1045-3.1 has a single cab for both crane operations and driving. A telescopic arm moves the cab from road driving position at the front of the vehicle to an elevated position for crane operations, to give the operator a much better and broader view of the job site. Improving the operator's perspective, eliminating blind spots and minimising reliance on radio communication contribute significantly to job site safety, particularly on busy city sites.
The LTC 1045-3.1 also gives the operator a totally unobstructed view in driving mode on the highway, in contrast to some other city class mobile cranes where the stowed boom can restrict visibility.
This single cab design also allows vehicle length to be kept to just 25ft 3in, while its turning circle is just 24ft. It is also low enough to pass through 10ft-high doorways.
To work in the narrow streets and alleys of Boston, one of 11 locations from which the company operates, AmQuip was looking for maximum lifting power in a minimum sized machine.
"After much research and comparing all the manufactures, Liebherr had the smallest crane bumper to bumper, longest boom and best capacity in the class," says AmQuip president and CEO Charles Snyder.
"The telescopic cab was also a factor in our decision. Having a better view of the jobsites means improved safety as well as improved overall productivity. These are always our top priorities. The Liebherr name speaks for itself when you talk quality and research that goes into building a crane. They listen to customers when designing a crane."
Jack Good, manager of AmQuip's Boston operations, has also been talking to his own customers, spreading the word about the capabilities of his new arrival.
"We met with several key customers during the evaluation of this crane and they are very excited for this crane to join our fleet. Whether it is setting glass or working over a foundation hole, the operator will have much better views of the workers around the crane. We are confident that this will be a highly utilized crane that customers specifically call for," Mr Good says.
He adds: "AmQuip already offers a diverse fleet of all terrain cranes ranging from smaller 22 ton units up to 550 tonners, but the LTC 1045-3.1 is something a little bit special, with unique capabilities."
Hutton Strader, Liebherr Cranes Inc sales manager, national accounts, says that with the industry now starting to rebound other customers are showing interest in the LTC 1045-3.1. "This crane can go where others cannot," he says. "And as a true one-man machine that can also be operated by remote control, do a job quickly and move on to the next one, we believe it could well be the most efficient and productive mobile crane ever made."
AmQuip Crane Rental LLC is a leading US crane rental company, serving the Northeast, Mid-Atlantic region, and most Midwest and Southern states. Its fleet includes tower cranes, crawler cranes and industrial carrydeck cranes as well as all terrain cranes up to 550 ton capacity, hydraulic truck cranes up to 110 ton, and rough terrain cranes up to 130 ton. Significant shareholders include Altpoint Capital Partners, Bard Capital, Wesley Group, and Lehman Brothers Holdings.