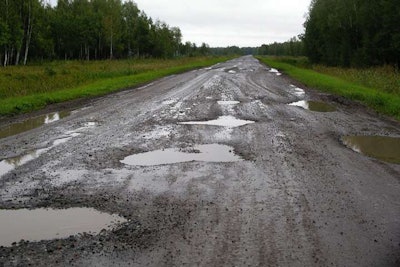 In the five cities with the roughest roads, potholes and other poor road conditions cost drivers more than $700 each year, our sister site, Aggregates Manager, reports.
The information comes from The Road Information Program's (TRIP) annual report, "Bumpy Roads Ahead: America's Roughest Rides and Strategies to Make our Roads Smoother."
The report notes the following five cities have the highest percentage of roads in poor condition:
1. Los Angeles / Long Beach / Santa Ana: 64%

2. San Francisco / Oakland: 60%

3. San Jose: 56%

4. San Diego: 55%

5. Tucson: 53%
In each of those cities, the cost of car maintenance due to road conditions is as follows:
1. Los Angeles/Long Beach/Santa Ana: $832

2. San Francisco/Oakland: $782

3. San Jose: $737

4. San Diego: $758

5. Tucson: $723
Aggregates Manager reports that more than 25 percent of major urban roads in the U.S. are in poor condition. The report also notes that those major urban roads carry about 78 percent of the 2 trillion miles driven each year in urban America.
Read more about other cities with rough roads and high vehicle maintenance costs at AggMan.com.