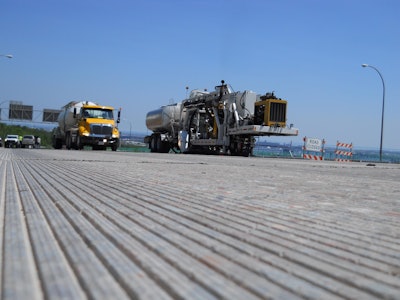 Increasingly, specifiers around the world are recognizing the benefits of diamond grinding and other diamond saw cut textures for their pavement and bridge deck surfaces. While most properly designed and constructed Portland cement concrete pavements (PCCP) can last for 30 to 40 years with minimal structural damage, functional issues such as ride quality, noise and skid resistance tend to manifest at this time due to surface abrasion and subgrade settlement.
Highway managers face increasing demands with limited transportation funding. This has led many transportation officials to find new and innovative ways to maintain and preserve their existing pavements. In the past, agencies used asphalt overlays to smooth and quiet their pavement. Roadway owners can no longer afford to address their concrete pavement repair needs with short-term solutions such as bituminous patches and thin asphalt overlays.
Experience has shown that concrete pavements can achieve their maximum longevity through the use of diamond saw cut textures.
Diamond Grinding
Diamond grinding of concrete pavement leaves a surface which is often as good as a new pavement. In reducing the bumps in the pavement surface, the dynamic loading from heavy wheel loads is decreased, resulting in lower stresses in the pavement. Diamond grinding reduces road noise by providing a longitudinal texture, which is quieter than transverse textures. The longitudinal texture also enhances surface macro-texture and skid resistance in polished pavements.
This procedure uses closely-spaced, diamond saw blades that gently abrade away the top surface of the concrete. On average, the diamond cutting media will contact the pavement surface nearly 27,000,000 times per square yard. This accounts for the gentle removal action unlike carbide milling operations. The level surface is achieved by running the blade assembly at a predetermined level across the pavement surface. The uncut layer between each saw cut breaks off, leaving a level surface (at a macroscopic level) with longitudinal texture. The result is a pavement that is smooth, safe, quiet and pleasing to ride on.
Diamond grinding can also be used for spot situations, to fix smaller, local problems in newer and older concrete pavements. If there are "must grinds" or rough areas in a newly constructed concrete pavement, the easiest and most cost-effective way of achieving the desired smoothness is to diamond grind the pavement.
Diamond Grinding Specification in Colorado
In Colorado, the Department of Transportation (CDOT) recently adopted a new specification that will allow diamond grinding to be used as a final surface texture on newly placed PCCP. The specification is in a pilot stage and diamond grinding is one acceptable texture that may be installed.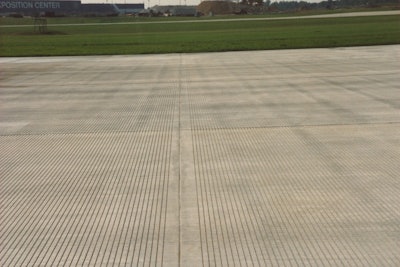 The change comes as a result of research related to safety and durability of PCCP textures initiated by CDOT in 2003. In addition to vehicle crash and friction data, CDOT included tire-pavement noise in their data collection plan. Based on this research, CDOT concluded that texturing processes such as diamond grinding can provide a safe and durable macrotexture. Therefore, CDOT will be recommending the use of a minimum average texture depth of 0.05 inches for newly constructed pavement and will allow the contractor to determine which texturing process to use on the project.
According to John Roberts, Executive Director of the International Grooving & Grinding Association (IGGA), this specification eliminates the use of transverse and longitudinal tining and instead promotes the use of turf drags, broom finishes and diamond grinding.
"This new specification, coupled with the move by many states to adopt IRI smoothness measurement in lieu of the California profilograph, will provide motorists with a safe, smooth and quiet ride in an environmentally friendly and cost-effective manner. Hats off to CDOT for their forward thinking and their hard work in proving that a safe and long lasting pavement does not have to be noisy," said Roberts.
Longitudinal Grooving
Pavement grooving is a process where specially designed grooving machines equipped with circular diamond-tipped saw blades are used to saw discrete drainage channels into the pavement's surface.
The blades are mounted and spaced on a horizontal shaft, and are cooled constantly by water pumped from a tanker, which is then recovered by an on-board vacuum system. These discrete channels can be constructed transversely or longitudinally into both concrete and asphalt surfaces.
Longitudinal grooving is often performed to provide safer driving on a pavement surface. Studies conducted by the California Department of Transportation (Caltrans) showed wet pavement accident rates decreased an average of 70 percent on all the grooved pavements studied, as compared to the control sections, where there was only a 2 percent reduction in accident rates. Dry pavement accident rates did not change as a result of the grooving.
The study concluded that grooving produced an overall average 69 percent decrease in accident rates for the highways studied, in both wet and dry conditions.
Grooved Asphalt Bridge Pavement
New York City's Robert F. Kennedy Bridge consists of three bridges, a viaduct and 14 miles of approach roads connecting Manhattan, Queens and the Bronx.
Franklin D. Roosevelt East River Drive (known more commonly as FDR Drive) intersects at 125th Street and the bridge heading northbound. The FDR ramp, approximately 1,800 feet long and 70 feet wide, was in need of surface repairs. The existing asphalt pavement was subject to extremely high levels of truck traffic and was distorted and shoved to the point where it was considered a safety hazard.
The existing high-performance overlay, which was applied a few years prior, had begun to show signs of wear. The solution came in the form of longitudinal grooving of the pavement. The project involved milling, paving and grooving, which were performed over the course of approximately three weeks. As the only approach from Northern Queens and Randall's Island to Manhattan, work time for the FDR ramp was reduced to five hours a day or less.
It has been proven that road conditions play a part in accidents. Grooving a road's surface will greatly improve wet weather traction and will significantly reduce accidents during inclement weather conditions.
Grooved Airport Runway Surfaces
Pilots have observed that transverse-grooved surfaces drastically reduce all types of skids on wet or flooded runways and provide positive nose-wheel steering during landing roll-out. Grooved surfaces also prevent the onset of drift and weathervaning.
Pilots find overall ground handling and stopping characteristics on grooved surfaces a dramatic improvement over ungrooved surfaces. Grooved surfaces also prevent the onset of drift at touchdown in flooded areas due to high cornering forces. From the pilot's point of view, the overall airplane ground handling and stopping characteristics on grooved surfaces show remarkable improvement over other surfaces.
These facts were confirmed in flight test programs conducted by NASA. The tests investigated the differences in wet runway braking effectiveness resulting from grooving the pavement surface. Tests showed grooving to be an effective method for maintaining high friction on a wet surface. In addition, a test on different types of grooving determined that diamond saw cut grooves was the most effective.
The transverse-grooved, saw-cut surface provided impressive braking, and the wheels could generate a side force to prevent lateral drift. Pilots found that deceleration on a wet, saw-cut grooved surface is almost the same as the dry surface and any nose-wheel steering lost on the ungrooved surface returns once braking resumes on the grooved surface.
The test results indicate that when a runway is flooded, the saw-cut grooved surface provides better braking traction than an ungrooved surface. Grooved surfaces drastically reduce all types of skids, including dynamic hydroplaning.
NASA research shows groove configuration with rounded edges provides less traction than sharp edges. The transverse-grooved sawing technique also provides the most uniform and consistent groove patterns. This vital NASA research has led to the current Federal Aviation Administration (FAA) runway grooving configuration of 1/4 inch by 1/4 inch (groove depth and width), spaced 1 1/2 inches center to center, which is currently used on most major runways in the United States.
Next Generation Concrete Surface
This innovative grinding technique, the Next Generation Concrete Surface (NGCS), is a long-lasting, economical, noise reducing surface texture developed for concrete pavement. It is a diamond saw-cut surface designed to provide a consistent profile absent of positive or upward texture, resulting in a uniform land profile design with a predominantly negative texture.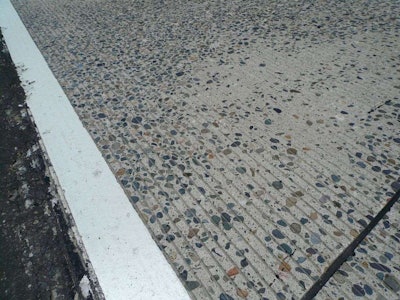 Conventional diamond-ground surfaces produce a positive or upward texture, although they are still quieter than most other concrete pavement surface textures. NGCS is a hybrid texture that resembles a combination of diamond grinding and longitudinal grooving and is the quietest exposed concrete surface available today.
I-35 in Duluth
This high traffic thoroughfare in Minnesota was the first large scale use of NGCS by a state department of transportation. Two segments of the I-35 Duluth Mega Project were involved. For the segment of I-35 from 21st Avenue East to 26th Avenue East, Minnesota Department of Transportation (MnDOT) was interested in the added benefit of tire/pavement noise reduction, since several hotels had been voicing concerns about the road noise. Now with NGCS, I-35 is substantially quieter.
Studies show that with NGCS, a high traffic freeway with 240 vehicles will now sound comparable to only 120 vehicles of traffic, a substantial reduction in sound.
NGCS in California
In California, NGCS has been used on six full-scale projects throughout the state. These sections were all existing concrete pavement, with an average age of 30 years old. In one of the projects, dowel bar retrofit was first performed, and then the surface was ground with NGCS. The majority of these projects were scheduled to be conventionally diamond ground to improve the ride quality. The NGCS sections were added in areas where a greater level of noise abatement was desired.
"It's suitability, skid resistance and quietness was closely evaluated by Caltrans during the time of construction," said Craig Hennings, Executive Director, Southwest Concrete Pavement Association. "They took a conservative approach."
"Caltrans wanted to be thorough before committing entirely to a new procedure," said Hennings. "So, they demonstrated not once, but several times, the success of NGCS. Now, Caltrans has gathered enough confidence in it to develop specifications to allow it to be used throughout the state."
"I think the taxpayers and residents are very happy with the results," said Hennings. "I can even tell you that a citizen had a call into the newspaper about the resulting noise reduction."
Conclusion
The use of conventional diamond grinding, safety grooving, and the Next Generation Concrete Surface all provide specifiers with long lasting repairs that will help keep pavements quieter, safer and smoother. These methods allow roadways to be repaired in phases using short lane closures during off peak hours.
Performing targeted rehabilitation using full and partial depth repair is easier on traffic control, since it eliminates closing whole roadways at once. At the end of the patching process, the entire area can be diamond ground to provide a smooth, safe and aesthetically pleasing surface on the roadway.
The best part is that these techniques provide a variety of options that can be used, based on the needs of each individual project.
"We look at each job on a friction, noise, and needs level for the next 15 to 30 years to determine the best strategy," said Matt Ross, Business Development, Penhall Company. "How to proceed on each job is a big decision."
In the end, the taxpayers appreciate the higher road quality and fewer closures for repairs. Enlightened specifiers across the nation are adding these procedures as part of their pavement preservation toolbox.
About the Author: Dan Fentress, P.E., is a Pavement Preservation Specialist for the International Grooving & Grinding Association. He has been working with IGGA since 2006 to promote diamond grinding in Texas and Iowa. With more than 20 years of experience in the design and repair of concrete pavements, Fentress is considered a concrete pavement preservation specialist.
About IGGA: The International Grooving & Grinding Association (IGGA) is a non-profit trade association founded in 1972 by a group of dedicated industry professionals committed to the development of the diamond grinding and grooving process for surfaces constructed with Portland cement concrete and asphalt. In 1995, the IGGA joined in affiliation with the American Concrete Pavement Association (ACPA) and in 2012 formed the IGGA/ACPA Concrete Pavement Preservation Partnership (IGGA/ACPA CP3). Today this partnership serves as the technical resource and industry leader in the marketing of optimized pavement surfaces, concrete pavement restoration and pavement preservation around the world. The mission of the IGGA is to serve as the leading technical and promotional resource for the acceptance and proper use of diamond grinding and grooving as well as PCC preservation and restoration. For more information, visit igga.net.