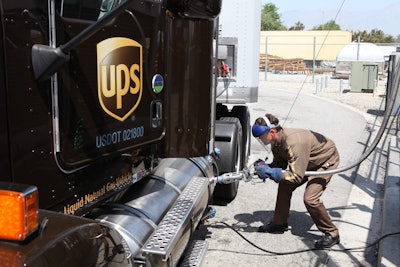 UPS has announced its plans to purchase approximately 700 trucks fueled by liquefied natural gas, better known as LNG.
The logistics company is no stranger to the alternative fuel. UPS has operated natural gas vehicles for more than a decade and prior to this announcement was operating a fleet of more than 100 LNG-powered vehicles in the U.S. and more than 1,000 gloablly.
Adding 700 to that number in one fell swoop is a strong vote of confidence in the fuel which the company says costs it 30-40 percent less than diesel.
"LNG will be a viable alternative transportation fuel for UPS in the next decade as a bridge between traditional fossil fuels and emerging renewable alternative fuels and technologies that are not quite ready for broad-based long-term commercial deployment," said Scott Davis, UPS Chairman and CEO, in a prepared statement.
On top of the cost benefit, UPS lists an increase in U.S. production of the fuel and 25 percent less carbon dioxide emissions as bonuses to operating vehicles with LNG.
In addition to the vehicles, UPS will be making an initial investment of more than $18 million to build three new LNG fueling stations in Knoxville and Memphis, Tennessee and Dallas, Texas.
The company currently has LNG fueling stations in Ontario, California; Las Vegas, Nevada; Phoenix, Arizona and Beaver and Salt Lake City, Utah.