Concrete solutions
Dust management, ergonomics showcased in Husqvarna's offerings
Dust management is a focus of Husqvarna's technology approach, says Jim Davitz, product manager for power cutters and diamond tooling. In addition to meeting emissions regulations, the company says its dust control strategy also greatly improves the operator's experience.
During a May event, Husqvarna introduced several products, all offering dust management systems, and a range of ergonomic and ease-of-use features such as vibration isolation, water containment systems and easy transportability.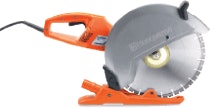 K 3000 Vac – Designed for rental applications and for specialty contractors, the K3000 Vac enables dry cutting with dust collection where using water isn't an option. The electric cutter's blade rotates forward for efficient cutting with reduced strain on the operator. Husqvarna's Elgard system provides an overload warning.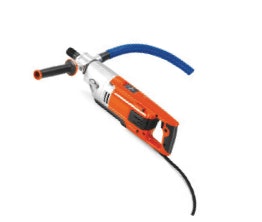 DM 220 – Used for handheld core drilling or mounted on a drill stand for angle drilling, the DM 220 drill motor has an electronic system and can be used for wet or dry applications. The electronic position system shows when the machine is in a vertical or horizontal positioning and has an LED indicator instead of a bubble level, ensuring an inexperienced operator can effectively use the unit. Additional features include ergonomic handles, the Elgard overload system and the SmartStart and SoftStart systems.

AD 10 – Suitable for use with several drill motors and stands, the AD 10 automatic drill system requires no manual work to move the drill along the drill stand. The system adjusts according to the drill motor used, and automatically stops drilling once the drill has passed through the material. The AD 10 has a compact design, weighs just 8 pounds and mounts in seconds.