40-PERCENT LARGER DISPLAY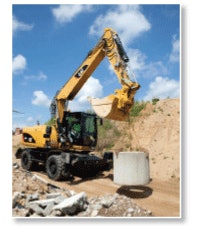 Caterpillar's M300D Series wheeled excavators offer a choice: use either a front or rear blade with or without outriggers at the non-blade end. The machines have a welded undercarriage that gives you more flexibility to tailor the machine to a specific application. The 129-horsepower M313D and 137-horsepower M315D have 19- and 20-foot dig depths and 1.20- and 1.65-cubic-yard bucket capacities, respectively. The M300D Series' monitor has a 40-percent larger display and greater resolution, simplified menu navigation and rear-view camera control via quick access buttons. The monitor also controls the attachment quick coupler and travel-lock function. A rotary-throttle dial on the right-hand panel module controls engine speed. Maintenance features include easy access to service points and asset management tools such as Caterpillar's Product Link and the Cat Machine Security System.
Visit EquipmentWorld.com/info
REACH SPECS WITH FEWER PASSES
Compact rock fill in 9-foot-thick layers with Dynapac's CA-series single drum vibratory rollers. The CA5000, CA5500, CA6000 and CA6500 have a .083-inch drum amplitude, enabling the operator to reach specs with fewer passes. The rollers have static loads of 280 pounds per linear inch, 310 pli, 335 pli and 365 pli, respectively. Automatic Bouncing Control measures feedback from the drum and then eliminates drum bouncing, improving compaction performance and reducing the possibility of machine component failure due to drum double-jump. The CA-series also has an ECO mode fuel conservation system that minimizes fuel consumption and carbon dioxide emissions. Electronic Drive Control has a quick brake function and a tilt indicator.
Visit EquipmentWorld.com/info
HIGH TILT-BACK TORQUE
Volvo's L45G and L50G compact wheel loaders have the company's TP Linkage system designed for high breakout force and parallel movement throughout the lifting range. Paired with the latest emissions compliant engines, the system provides high tilt-back torque and lifting power in a range of applications, including dumping into high sided trucks. The G-Series models have a transversely mounted engine, allowing for a shorter frame and more compact design, boosting maneuverability. The Tier 4 Interim machines have a D4 four-cylinder engine with cooled gas recirculation and diesel particulate filter with active regeneration.
Visit EquipmentWorld.com/info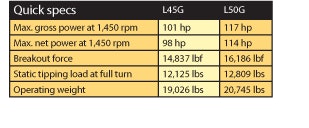 SINGLE JOYSTICK CONTROL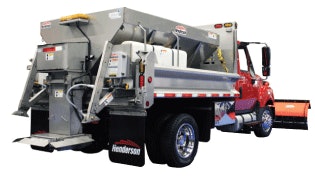 Manage snow and ice control with Henderson's Charge Clean-Power Series, an electric control CAN bus management system for Class 3 to 7 trucks. The system controls the snow plow, dump body, lighting, spreader, spinner and pre-wet system and is operated by a single joystick control that fits inside a cup holder. The elimination of a dedicated gas engine reduces fuel consumption, noise pollution and maintenance associated with spreader operation.
Visit EquipmentWorld.com/info
HEAT COLD MIX IN HALF-HOUR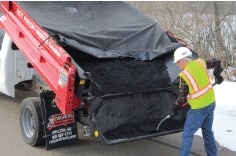 Expand your fleet's versatility with the Hot Patch Asphalt Heater, which heats repair mix using your truck's engine coolant. The heater heats cold mix to a workable temperature within half an hour, and keeps the mix pliable throughout the day. An ergonomic hydraulic shoveling platform lowers materials from the bed of the truck to a comfortable shoveling height, and can lift 800 pounds. The platform can also be used to shovel gravel and lift debris.
Visit EquipmentWorld.com/info
SAVE 29 PERCENT IN TIRE WEAR
Bridgestone's Ecopia line incorporates new technology that extends casing life and lowers costs over the life of the tire. Advanced compounding offers lower rolling resistance for a savings of up to 5 percent in fuel costs and up to 29 percent in total tire wear cost. New tread designs provide long, even wear in an eco-friendly tire option
Visit EquipmentWorld.com/info
ONE-STEP BED PREPARATION
Cherrington's Rock Picker features an adjustable screen depth from 1 to 6 inches, and removes stones 1/2 to 10 inches in diameter. The unit has an oscillating sifting screen powered from the tractor's PTO, and reduces bed preparation to a single step. The Rock Picker features loading paddles that place the soil onto the screen. After the soil is screened, everything larger than the screen size is retained in the high lift hopper, while the soil is returned to the bed.
Visit EquipmentWorld.com/info
ALL-STATES FULL RATING

Talbert Manufacturing's 2+3+2 65-Ton HRG East Coast trailer features a flip extension to accommodate a tandem-axle jeep dolly, enabling use in all states at full rating. The trailer offers the ability to add a tag or pin-on axle to the jeep for a 3+3+2 configuration, and has 60-inch axle spacing, an airlift on axle 3 and chain lifts on axles 1, 2, 4 and 5. The trailer is capable of running with 3, 4 or 5 axles in a row without the booster.
The trailer has a 28-foot deck length, 8-foot 6-inch deck width, is rated for 65 tons in 14 feet of deck length and can accommodated an additional 10-foot section of deck. It is made of T-1, 100,000-psi steel and has standard features that include an air ride suspension, connections for a PTO system and an onboard power pack to operate the hydraulic system.
Visit EquipmentWorld.com/info
MOVE MATERIALS IN MUCK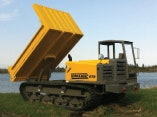 Rig Source's Terramac RT9 rubber track multipurpose carrier is equipped with a 230-horsepower Cummins diesel engine and has an 18,000-pound carrying capacity. The 17-foot 7-inch-long, 8-foot 5-inch-wide RT9 measures 9 feet 3 inches high and has a 20-inch minimum ground clearance with a 10-foot turning radius. The travel speed is 4.7 to 7 mph. Available with both open and closed cabs, the RT9 is also equipped with both ROPS and FOPS components. The RT9 also has 4.9-psi ground pressure and features front and rear bolt-on attachments. The unit can be mounted with cranes, drills, water tanks and more.
Visit EquipmentWorld.com/info
PUMP HANDLES HIGH-PRESSURE JOBS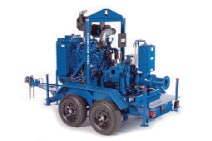 Thompson Pump's 6-inch high head 6JCC portable pump delivers 1,100 gallons per minute, 490-foot heads and 212 psi. Designed for high pressure applications, the pump offers automatic initial priming and re-priming. The 6JCC is equipped with Thompson's Enviroprime System that keeps pump fluids from spilling during operation. The Silent Knight sound attenuated canopy is available as an option. Visit EquipmentWorld.com/info
CUT AT FASTER SPEEDS
The Road Razor Eco Pro from Kennametal offers maximum hardness in the head area for cutting at faster speeds when milling asphalt. The tool has a lower power demand, so users can run at conventional speeds to save fuel, or run faster and spend less time to complete the job. The Road Razor Eco Pro's point design features advanced carbide grades for less cracking in abrasive asphalt conditions, and a thicker nonagon-shaped washer boosts cutting by encouraging tool rotation.
Visit EquipmentWorld.com/info
KEEP FILTERS CLEANER LONGER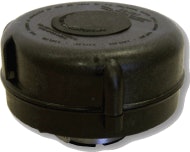 Designed for equipment operated in dusty environments, Parker Hannifin's Racor Composite Dynamic Air Precleaners increase the life of the air filter. The precleaners reduce overall intake system restriction and increase equipment productivity. They also separate solid dust and debris from the air stream before they reach the main air cleaner.
Visit EquipmentWorld.com/info
REMOVE DEBRIS WITH ROCK PICKER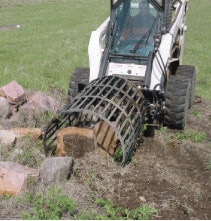 Easily separate rocks from dirt with Kwik-Way's Rotary Rock Picker, which fits any skid steer via a quick-attach plate. Scoop and spin, and the rocks are picked out. The Rotary Rock Picker handles debris such as wood and metal as well as rocks, and is manufactured from heavy duty steel.
Visit EquipmentWorld.com/info
FUEL-SAVING EXCAVATOR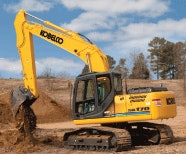 Kobelco's latest launch in the Mark 9 excavator series, the SK170, offers a 10-percent improvement in fuel efficiency when compared to previous models. Equipped with a selective catalytic reduction emission solution, the excavator has a fully automatic engine and hydraulic warm-up system and delivers 115 net horsepower. The 38,656-pound SK170 has a 24,900-pound bucket digging force and a 21-foot 5-inch maximum dig depth. The ROPS/FOPS cab is isolation mounted, reduces noise and vibration, has repositioned controls and delivers improved visibility.
Visit EquipmentWorld.com/info
CRANE OFFERS CUSTOM CONFIGURATIONS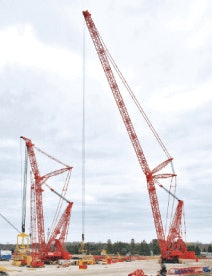 Manitowoc's 2,535-ton-capacity Model 31000 crawler crane includes a Variable Position Counterweight and is available with multiple boom and jib configurations. A 180-foot heavy lift main boom is standard, but can be extended to a 361-foot total length with optional inserts. A 1,543-ton-rated fixed jib with a 79-foot basic configuration can also be extended to 138 feet. A combination boom which combines parts of the main boom and the luffing jib can be extended to 453 feet with the use of inserts.
Visit EquipmentWorld.com/info
SCREED PROVIDES SMOOTHER SURFACE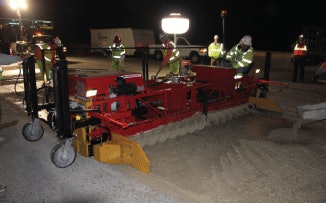 Achieve a smoother concrete pavement with Allen Engineering's RS844 Series Rollerscreed, a ride-on steerable roller screed available in 14- to 34-foot widths with working widths of 12 to 32 feet. Powered by a 44-horsepower Kubota turbo diesel engine, the RS844 features an 8-inch-diameter spinning tube for improved surface contact. Additional features include front and rear lights, sectionalized truss style overhead mainframe, emergency kill switches on both ends of the machine as well as the operator panel, adjustable seat and arm rests and manual crankremovable dolly jacks with foam-filled pneumatic tires.
Visit EquipmentWorld.com/info