David Alligood of Manatee County, Florida, has been named the 2020 Technician of the Year by the Association of Equipment Management Professionals Education Foundation.
Supervisors and coworkers described Alligood as able to surmount any challenge, always looking for ways to save costs and improve efficiency, as well as being reliable, honest and hardworking.
"There is nothing that this guy can't figure out," said his manager, Matthew Case, who nominated him for the award. "There's nothing that he can't resolve."
Alligood is senior fleet technician and supervisor, responsible for maintaining and repairing the county's heavy construction equipment at its landfill. He has been with the county since 2007 after serving four years as an automotive technician. He graduated from Manatee Technical Institute's automotive service technology program.
Case also praised Alligood's leadership and mentor skills as he helps younger technicians.
"He places them under his wing," Case said during AEMP's virtual award ceremony October 15. "He demands the respect of being the lead guy, the senior man. But he also has that connection with all those different employees, all those different skill levels."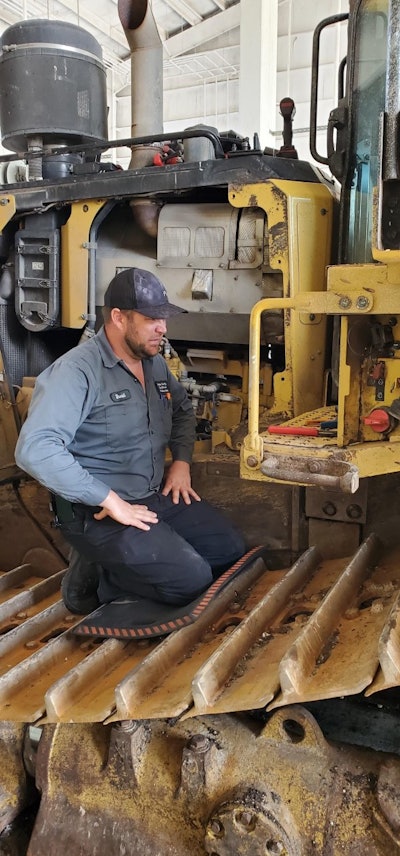 Tracy Brooks, maintenance operations chief, has worked with Alligood for three years and is impressed with his leadership qualities as well as his work ethic.
"He is extremely hardworking, always gives 100 percent to whatever he does," she said during the ceremony.
"…He is a really good example to other workers. He's very patient, he's kind, he always helps other people, shows them what to do, teaches them new tricks."
Along with helping others, Alligood has demonstrated a dedication to the technician field by constantly seeking new training and certifications. He recently completed AEMP's Equipment Manager Specialist certification, designed to build excellence in equipment management.
He has also helped the county save hundreds of thousands of dollars. One example of this occurred after he discovered premature wear on dozer undercarriages. After investigation, it was determined operators were running the dozers in high gear too long. He helped implement an operator training program that has led to fewer repairs and increased savings and equipment life.
Case praised Alligood for his high productivity and customer service levels when nominating him for the award. The quality of his work also received high praise.
"I've been in the fleet automotive industry for over 42 years and retired military as a mechanic," said Stan Driggers, fleet superintendent for Manatee County. "And David Alligood is the most experienced and gifted technician I've ever worked for in my life."
Driggers pointed to Alligood's ability to fabricate pullers and other tools to speed up work and minimize downtime. That's an important prospect at a landfill, where operations are going full steam ahead 10 hours a day, six days a week.
Alligood and his staff have 173 pieces of equipment to tend. Alligood's responsibilities extend to compactors, excavators, dozers, skid steers, forklifts, graders, compactors, rollers, dump trucks, tractors, trailers. He even works on the county's lighter equipment, including golf carts, pickup trucks and ride-on mowers.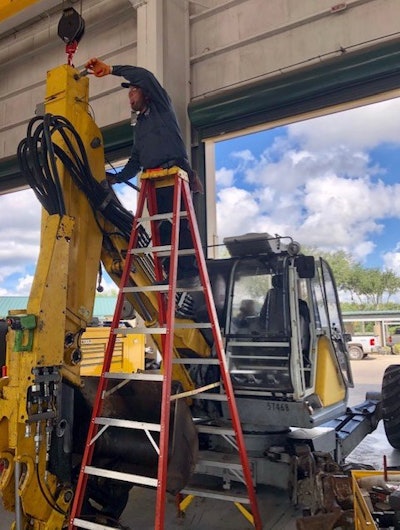 "He goes above and beyond, and he'll fix and maintain stuff that's not even in the realm of his daily duty," Driggers said. "He's 100 percent focused and reliable."
In accepting the award, Alligood thanked Case and his coworkers at Manatee County for nominating him. He credits his father with getting him interested in mechanical repair and maintenance as a boy. He also thanked his first employer, Bill Lee, who paid for him to go to Manatee Technical Institute.
"I just love doing what I'm doing," he said by video during the ceremony. "The bigger the job, the better."
The Technician of the Year Award by the AEMP Education Foundation has been presented each year since 1989 to "the individual who exemplifies the heavy equipment profession's best technician." The award seeks candidates who constantly update their education, demonstrate a strong safety record, improve fleet operations and are always professional.
As this year's winner, Alligood will receive a custom-built John Deere toolbox and merchandise and complimentary one-year membership to AEMP. He will also be the subject of an in-depth cover story for Equipment World's December print issue and on equipmentworld.com.
Marcia Doyle, Equipment World editorial director, noted the praise Alligood received from his coworkers and manager, who cited his professionalism and his mentorship of younger technicians.
The goals of the award are to raise the stature of the technician field as a career and bring awareness to the critical shortage of technicians, AEMP says.
"Without technicians we couldn't do what we do," said Brian Riniker, manager of commercial development for John Deere, corporate sponsor of the award. "We couldn't build what we build."