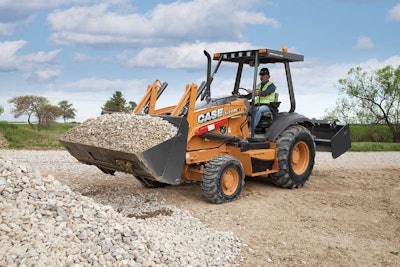 Case Construction Equipment launched the 570N XT loader/tool carrier today, with increased fuel efficiency while retaining high breakout force and reach thanks to a Tier 4 Interim-certifed engine.
The machine is capable of performing a variety of applications for landscaping, construction and utility contractors, as well as agricultural applications. It has an operating weight of 12,898 pounds, bucket breakout force of 9,271 pounds, and a hinge pin height of 11 feet, three inches. The machine's front loader features an optional hydraulic quick coupler to easily connect and disengage buckets and other attachments.
The 570N XT is powered by a Case turbocharged engine rated at 78 horsepower, delivering what Case says is a minimum 5 percent increase in fuel efficiency and faster response times than previous models.
The machine is designed to boost productivity by retaining more material during each dump cycle and the three-point hitch with variable-flow hydraulics delivers greater precision and lift capacities. And to help reduce material spillage during roading, Case offers the 570N XT with optional Ride Control. An optional hydraulic power takeoff and dual tilt on the box blade provide more versatility and ditching capabilities.
The 570N XT loader/tool carrier offers the same powertrain components that are standard on the Case's N Series loader/backhoes, including the engine, axles, four-speed transmission and power-assist brakes. Four-wheel drive is standard on the 570N XT.
"With power-assist brakes, the operator doesn't need to apply full force to stop the machine," said Case brand marketing engineer Katie Pullen. "This not only extends the brake life, it also reduces operator fatigue."
A low-profile canopy option offers increased visibility from the operator's seat — which swivels 15 or 30 degrees to the side to reduce fatigue during three-point hitch operation — and the optional, air-conditioned cab with floor-to-ceiling glass enhances comfort and visibility for the operator as well.
For easy maintenance, the 570N XT features a no-tool forward-tilting hood, vertical spin-on filters and grouped, ground-level service checks. Service technicians can maintain axles and brakes easily without complete disassembly.