EDITOR'S PICK
MID-SIZE MODELS OFFER BIG PERFORMANCE
Boost productivity with Snorkel's mid-size boom lifts, which offer improved drive and lift capabilities when compared to previous models.
The A62JRT, which replaces the AB60JRT, features a 62-foot platform height articulated boom and a 100-percent reduction in tail swing. Up-and-over clearance for this model is 29 feet 6 inches, and the platform cage measures 96 by 39 inches. The A62JRT has a 27-foot 10-inch stowed length, ensuring easy transport. Optimized steering delivers a tight turning radius of 4 feet 6 inches, and an oscillating front axle with hydrostatic four-wheel-drive keeps all four tires in contact with the ground. The Model T66JRT, which replaces the TB66JRT and TB60RT lifts, has a 66-foot platform height and is available without the jib. The unit features a 4-foot, 6-inch turning radius, an 8-foot, 4-inch stowed height, a 28-foot transport length and a 47-inch tail swing. Both models use the company's Polaris chassis and offer proportional control of drive, boom lift and lower and continuous 360-degree turntable rotation. The telescoping boom, platform and jib functions are infinitely controlled and variable through the use of toggle switches and a rheostat. The hydrostatic drive system provides high drive pressure to deliver increased torque to the wheels, resulting in improved power, gradeability and versatility. Snorkel expects to have both models in full production in the next summer.
Visit EquipmentWorld.com/info

SINGLE ENGINE EFFICIENCY
Efficiently collect debris from large cleanup jobs with Vacall's AllCatch sweeper from Gradall Industries. The AllCatch features a single engine that powers the chassis and vacuum system, offering fuel savings and a reduction in maintenance costs over two-engine machines. The vacuum tube is available in a range of sizes and handles asphalt, stones, rocks and more, while the debris tank is constructed of reinforced steel to handle heavy material. The sweeper also features a tailgate design that enables the hose and boom to fold against the rear of machine, a more effective dumping design and the AllSmartFlow CAN bus control system.
Visit EquipmentWorld.com/info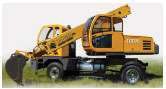 CONTROL FROM THE CAB
Experience versatility with the Model 470TM truck-mounted telescopic excavator from Badger Equipment, which is an addition to the company's line of hydroscopic and wheeled excavators. The 470TM features a Cummins engine, has joystick controls and offers the ability to operate from the upper cab. The highway-speed excavator has a telescoping boom, 24-volt system and is available with 4-by-2 or 4-by-4 drivetrains.
Visit EquipmentWorld.com/info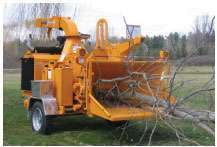 CRUSH AND CHIP
Reduce the amount of trim work needed when chipping with the Model 1590XP from Bandit, which aggressively crushes and compresses material. The hand-fed drum style chipper is available with 25-inch-wide horizontal feed wheels, offers engines up to 180 horsepower and has a 19.75- by 20.5-inch throat opening.
Visit EquipmentWorld.com/info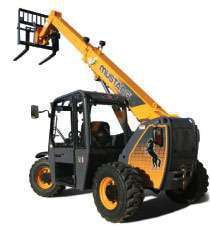 COMPACT CONVENIENCE
Easily navigate tight spaces with the Model 519 telehandler from Mustang, which features an 11-foot turning radius. The 68-horsepower Model 519 features a Yanmar Tier 4 Interim compliant engine, 22-gpm hydraulic flow and standard internal wet disc service brakes. The welded box section boom reaches up to 19 feet 1 inch with a 5,500-pound lift capacity. The ROPS/FOPS canopy provides the operator a 360-degree view.
Visit EquipmentWorld.com/info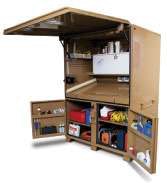 LOCK IT UP
Store documents, tools and equipment securely on site with Knaack's Field Station, which features the Watchman 5-lock system, vault-style hinges and a locking storage hatch. A 14-gauge steel bottom protects the unit from damage during transport, and dual gas springs ensure smooth opening. The Field Station includes four-way skids, storage shelves, a metal bracket light mount and multiple power pass-through grommets for charging tools, computers, phones and more. A range of available accessories include a heavy duty metal side shelf, storage bins, a lockable shelf door that can be used as a whiteboard and an LED light kit.
Visit EquipmentWorld.com/info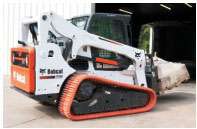 PROMOTE LONGEVITY
Experience a smoother ride with Bobcat's all-season multi-bar lug rubber tracks, which fits a range of Bobcat compact track loaders. The non-marking tracks feature a double offset tread pattern to reduce vibration, minimizing cuts and cracks and extending undercarriage life. The multi-bar lug pitch system delivers a more comfortable ride.
Visit EquipmentWorld.com/info