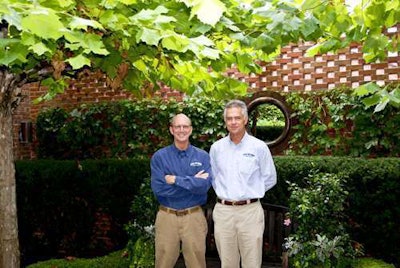 Bill Henkel and Gordon Denmark, owners of Henkel Denmark, Lexington, Ky., have won the 2012 Landscaper of the Year award from Total Landscape Care magazine, a sister publication to Equipment World, Better Roads and Aggregates Manager. Sponsored by Case Construction Equipment, this annual program selects 12 finalists from among the thousands of professionals who work in the landscaping industry.
In recognition of their success, the 12 finalists and their guests were rewarded with a four-day, all-expenses-paid cruise to the Bahamas in November, during which Henkel Denmark was named the overall winner.
Henkel Denmark will be featured as the cover story for the January 2012 edition of Total Landscape Care, and each of the 11 finalists will be featured subsequently in profiles about their businesses throughout the year.
"Case has a long history of equipping the landscaping industry with machines such as our recently introduced Alpha Series skids steers and compact track loaders," said Jim Hasler, vice president, Case Construction Equipment. "We are committed to supporting our landscape customers with a full line of equipment for every type of project."
Henkel Denmark has won numerous awards for their diversified portfolio of services, focusing primarily on landscape maintenance and design/build projects. Client properties range from large apartment complexes to sprawling thoroughbred farms and urban courtyards. The company participates in various landscaping industry trade associations and in its local community where it provides free landscaping services for local schools and Habitat for Humanity homes.
The Total Landscape Care "Landscaper of the Year" award is considered the most prestigious in the landscaping industry. The program recognizes the top U.S. landscaping contractors with less than $8 million in annual revenue.
The program acknowledges companies who exemplify the highest standards of landscape professionalism, business acumen, marketing and equipment management expertise, attention to safety and community involvement.