Focus on what it will take to help you complete the task at hand with the right attachment.
Whether you're going to rip, shred, break, crush, cut, dig, grab, grind, move, measure, mulch, flatten, sweep or control, there's an attachment that's designed for the job.
ROCK BUCKET AVAILABLE IN THREE SIZES
Tackle tough loading and digging applications with 4-, 4.5- and 6-cubic-yard capacity rock buckets from Doosan, which feature a spade nose design and standard weld-on teeth. The 4- and 4.5-cubic-yard buckets measure 128.9 inches wide by 54 inches high, and the 6-cubic-yard capacity bucket measures 136.2 inches wide and 68.5 inches high. The buckets are available with a pin-on mounting.
Visit EquipmentWorld.com/info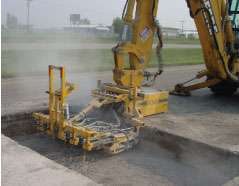 DRILL SIMPLIFIES FULL-DEPTH ROAD REPAIR
Drill 5/8- to 2 1/2-inch-diameter holes to an 18-inch depth with E-Z Drill's Model 210 Equipment-Mounted concrete drill attachment. The series includes three models – a three-gang, four-gang and five-gang model – and is compatible with most backhoes and excavators. The drills have a side-shift control that allows a second set of holes to be drilled without the need to move either the drill or the carrier. A floating bucket curl pin allows self-leveling, and 360-degree rotation enables quick repositioning.
Visit EquipmentWorld.com/info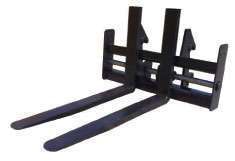 FORKS FEATURE ADJUSTABLE TINES
AIM Attachments' Pallet and Utility Forks are designed to fit all models of backhoes and loaders. The forks offer a low profile back frame to ensure maximum visibility and have a close center of gravity to maximize full lifting capacity. The forks have fully forged, heat treated adjustable tines to handle a variety of materials.
Visit EquipmentWorld.com/info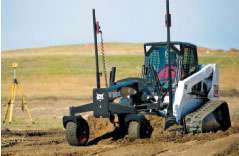 ACHIEVE GRADE EASILY WITH LASER CONTROL
Increase efficiency on Bobcat's M-Series loaders with the Bobcat BLR2 laser receiver, which is available on 600, 700 and 800 platform M-Series compact track loaders. Paired with the deluxe instrumentation panel, the receiver offers a choice of automatic laser control or by indication. An in-cab panel gives the operator a number that indicates within a tenth of an inch how much material needs to be added or removed for grade.
Visit EquipmentWorld.com/info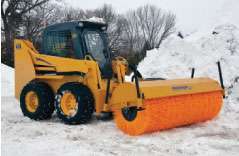 BRUSH REMOVES SNOW WITHOUT DAMAGING SURFACES
Remove snow in hard-to-reach areas, such as against curbs or walls, with the Sno Broom attachment for skid steers from Pro-Tech. Available in 60-, 72- and 84-inch broom widths, the Sno Broom comes with a universal coupler and boasts a maximum broom speed of 200 rpm. The broom can be hydraulically angled 30 degrees left or right. Features include storage stands, high density poly bristles and a 155-degree brush hood.
Visit EquipmentWorld.com/info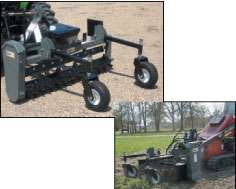 REMOVE DEBRIS, SET GRADE
Remove debris to prepare surfaces or set grade on new construction sites with SitePro's Piranha Power Landscape Rakes from Worksaver. The Piranha features replaceable bearing housings, triple seal bearings, quick flip-up side shields, flip-up gauge wheels and a material control bar. A choice of 2-inch Sabre tooth or 1 3/4-inch carbide tooth rotor is available.
Visit EquipmentWorld.com/info
FORKS HANDLE HEAVY LOADS
Danuser's Pallet Forks feature a heavy duty rail style frame that supports up to 6,000 pounds. Available with 42- or 48-inch tine lengths, the forks have multiple tie-down locations on the frame and a 10-degree back angle that maximizes fork breakout force.
Visit EquipmentWorld.com/info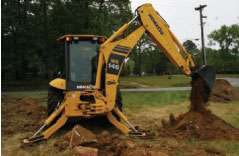 AFTERMARKET AIR SYSTEM FITS NEW CABS
Hammond Air Conditioning's Arctic Wolf aftermarket integrated air conditioning systems are designed to fit new backhoe cab designs from Case, Caterpillar, John Deere, JCB and Terex. The drop-in kits are packaged with a redesigned Sanden compressor, condenser, electrical connectors, mounting brackets and tie wraps. The system generates between 20,000 and 25,000 BTUs, and the blowers circulate the air at between 400 and 500 cfm.
Visit EquipmentWorld.com/info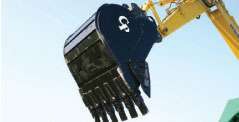 BUCKETS TACKLE ABRASIVE MATERIAL
CP Heavy-Duty and Severe-Duty Buckets from Paladin Construction Group are available in widths from 10 to 84 inches for excavators weighing up to 200,000 pounds. The buckets feature a circular torque tube design to enhance strength, and one-piece T-1 curved side cutters and side wear pads protect the bucket sides from premature wear. A 3/4-inch-thick abrasion resistant double bottom provides a hard barrier between the bucket and the material. The bucket is available in struck capacity sizes from 0.0037 to 5.7 cubic yards in the Heavy-Duty model and 0.106 to 3.9 cubic yards in the Severe-Duty version.
Visit EquipmentWorld.com/info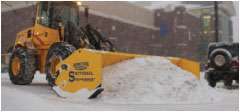 PLOW AVAILABLE IN RANGE OF SIZES
Handle snow easily with the Sectional Sno-Pusher, part of the HD Pusher line from Arctic Snow and Ice Control Products, which fits wheel loaders, backhoes, skid steers and telehandlers. The pusher's moldboard design has individual 32-inch-wide sections that have independent spring-loaded trip edges, enabling the section to move up and down on its own to contour to uneven surfaces. The pusher is available in six sizes from 12 to 26 feet, with capacities ranging between 19 and 46 yards.
Visit EquipmentWorld.com/info
COUPLER WORKS WITH MOST ATTACHMENTS
The JRB PowerLatch multi-pin grabber coupler from Paladin Construction Group fits excavators and backhoes and works with a variety of buckets and attachments. The strong, lightweight coupler has advanced safety features such as the company's Automatic Blocking System that ensures coupler engagement during hydraulic failure, backup mechanical locks on both front and rear attachment pins and flashing LED warning lights when attachments are switched.
Visit EquipmentWorld.com/info
TOOL TACKLES DEMOLITION JOBS
Experience versatility with the CS Series multi-utility tool from VTN Rotobec, which handles a range of demolition applications. The CS Series accepts five different job sets to handle shearing, pulverizing and cutting.
Visit EquipmentWorld.com/info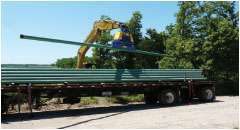 LIFTER HANDLES DIFFERENT TYPES OF MATERIAL
The Vacuworx MC3 Mini Lifter has a 6,600-pound lifting capacity and operates with material-specific vacuum pads designed to fit all diameters of coated and non-coated pipe, as well as concrete slabs, steel plates and steel tanks. The self-contained machine, which can deliver a vacuum suction force of 28.94 Hg, attaches easily to pipe layers, forklifts, compact excavators, cranes, track loaders, skid steers and other carriers. The MC3 Mini includes a closed frequency wireless remote control system.
Visit EquipmentWorld.com/info
BREAKER BOOSTS POWER, REDUCES MAINTENANCE
Experience reliable power in an easy-to-maintain unit with the Sandvik Small Range breakers from Allied Construction Products, which includes the BR555, BR777 and BR999 models, designed for carriers between 7,500 and 27,600 pounds. The breakers' design eliminates tie rods to reduce maintenance. An integrated one-piece tool bushing design requires fewer parts and is field-replaceable.
Visit EquipmentWorld.com/info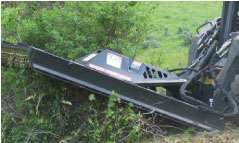 BRUSH CUTTER OFFERS LOTS OF STANDARD FEATURES
Maximize brush clearing speed while minimizing power requirements with the Bradco Brush Cutter from Paladin Construction Group. The skid steer attachment cuts brush up to 4 inches in diameter and includes features such as high deck clearance, side discharge, flow control baffle and a rotation indicator. The brush cutters are available in 60- and 72-inch standard flow hydraulic models and 60-, 72- and 78-inch high flow models.
Visit EquipmentWorld.com/info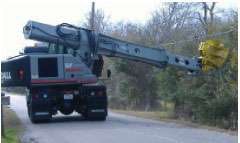 BRUSHCUTTER USEFUL FOR VARIETY OF APPLICATIONS
Perform a range of clearing applications with Pro Mac's brushcutters, which clears up to 10-inch-diameter material. The brushcutters are available in 36-, 52- and 66-inch sizes with three frame styles and three disc options. The units feature bolt-type teeth and reversible upper and lower teeth.
Visit EquipmentWorld.com/info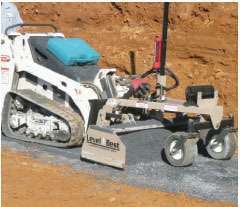 ACCURATELY GRADE WITH COMPACT MACHINE
ATI's Level Best grading box for compact toolcarriers grades up to 1/8-inch elevation accuracy and is available in 48-, 54-, 60- and 66-inch widths. The push-pull design enables both forward or reverse grading and the box works with Apache, AGL, Leica, Trimble or Topcon laser controls.
Visit EquipmentWorld.com/info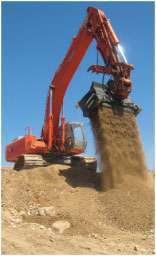 SEPARATE WET MATERIAL
Process a variety of wet and dry material with Remu's screening bucket. The cost effective attachment can be used for separating, mixing and padding, and is easily transportable on site.
Visit EquipmentWorld.com/info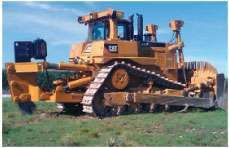 RIP HARD MATERIAL
Cut through hard, compacted material with Bron's 4000 Vibratory Ripper, useful when working in compacted soil, shale, limestone rock and more. The vertical mounted shaker creates a hammer chisel with the single blade to handle tough material. The direct pin-on attachment fits dozers up to 1,200 horsepower and eliminates the need for extra counterweights.
Visit EquipmentWorld.com/info
RIPPER PART OF SEVERE DUTY LINE
Vail Products' Super Heavy-Duty Single Shank Ripper has the heaviest toolbar in its class, according to the company. The ripper offers the weight of a multi-shank ripper in a single shank ripper design. The severe duty attachment is manufactured from high strength steel for durability.
Visit EquipmentWorld.com/info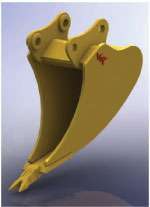 STAGGERED RIPPER TEETH ATTACK SUBSTRATE
Replace hammers and rock trenchers with Leading Edge Attachments' High-Cap Multi-Ripper Bucket, which uses the hydraulic excavator's rolling action to rip. Staggered ripper teeth fracture the substrate in sequential order, producing flat ripped sides and bottom surfaces. The bucket is available for excavators over 6,000 pounds.
Visit EquipmentWorld.com/info

SCREENER AVAILABLE IN RANGE OF SIZES
Easily separate stone from landfill material with Allu's D-Series screener crusher attachment, which is available in 37 models for excavators and wheel loaders from 8,000 to 10,000 pounds.Efficient power rotation eliminates back-and-forth rotation when handling material, producing an end product that measures either 1/2 or 1 inch. Available options include changeable blades, fine screen models and frame choices.
Visit EquipmentWorld.com/info
HANDLE SNOW EFFICIENTLY
Move a large volume of snow quickly with CEAttachments' Edge Oscillating Snow Push, which fits a variety of skid steer models. The Snow Push oscillates up to 8 degrees, and floating side plates and frame links allow the weight of the pusher to be transferred to the rubber edge, keeping the Snow Push in contact with the area being cleared. The rubber cutting edge has 3 inches of wear per side and is reversible and replaceable. The Snow Push is available in 84- to 108-inch widths.
Visit EquipmentWorld.com/info
LONG REACH IMPROVES VISIBILITY
Use any auger drive up to 12,000 foot-pounds without making adjustments with Pengo's Revolution Series Auger/Anchor Drive. The long reach mount provides between 7 and 11 feet of clearance, allowing for the use of longer bits. The increased ground clearance also improves operator visibility, and allows the drive to be positioned up to 48 inches away from the skid steer's cab. The long reach mount has retractable stabilizer arms for easy attachment and storage.
Visit EquipmentWorld.com/info
DISCHARGE FROM EITHER SIDE
CJJ's versatile bucket allows the operator to scoop material, and then rotates to become a hopper with a multi-directional conveyor. The bucket has two side openings to discharge materials, and two orbit motors that operate the conveyor's flexible track. The bucket measures 29.5 inches high by 82 inches wide and holds approximately one cubic yard of material.
Visit EquipmentWorld.com/info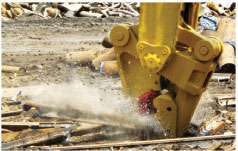 TEETH SEGMENTS EXPAND MT SERIES VERSATILITY
Handle, position and process heavy rail at a fast rate with the MTR Rail Breaker tooth segments from Allied-Gator, which works with the company's Quick-Change Cracker/Crusher Jaw Set on the MT Series Multi-Tool. The segments bolt into the jaw set in minutes and deliver a rate of 6 to 8 breaks per minute.
Visit EquipmentWorld.com/info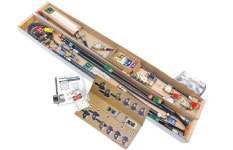 KIT WORKS WITH ANY ATTACHMENT, CARRIER
Operate any attachment designed for an excavator with HKX's auxiliary hydraulic kits, which include pre-assembled components and step-by-step instructions. Eight standard kits are available, as well as upgrade options and custom designs. The controls integrate with factory joysticks and monitors, and feature a bolt-on design to eliminate welding.
Visit EquipmentWorld.com/info
GRINDER ATTACHMENT CUTS ROCK, CONCRETE
Eliminate the need for a hydraulic hammer when performing trenching, demolition and rock excavation applications with Antraquip's rock and concrete grinder attachments. Available in a range of sizes to fit any excavator, the attachments have carbide cutter bits that grind anything in its path.
Visit EquipmentWorld.com/info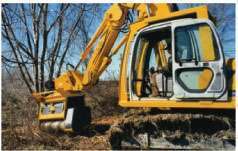 SELF-POWERED UNIT ELIMINATES NEED FOR HYDRAULIC POWER
Shred four acres per day with Sneller Machine's 275-horsepower self-powered shredder. The unit has a 60-inch drum with stationary carbide teeth that easily change without bolts. Remote controlled from the cab, the shredder requires a 25-metric-ton or larger excavator. For smaller size carriers, 60- and 170-horsepower versions are available.
Visit EquipmentWorld.com/info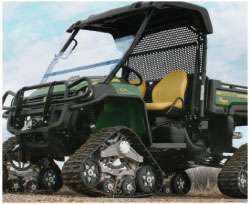 OPTION ENABLES STAYING LOCKED IN 4WD
Compensate for mismatched front differential ratios on ATVs and UTVs with the Sprositive Drive option from Mattracks, which eliminates the slack in the pitch, enabling all tracks to pull at the same speed. Sprositive Drive options are available for Polaris, John Deere, Club Car, Bobcat, Case IH, New Holland and Cub Cadet UTVs as well as Polaris ATVs.
Visit EquipmentWorld.com/info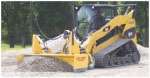 LASER PERFORMS CONSTANT ADJUSTMENTS
Achieve a precise grade level with sub-grade accuracy to within 1/8 of an inch with the Dual Dozer from HitchDoc. Designed for use with most skid steers, the blade operates independently of the carrier unit, holding a grade by sending a laser signal simultaneously into each laser receiver sensor. The laser controlled grading box automatically adjusts on both right and left edges by two hydraulic cylinders. The Dual Dozer has two blades, allowing forward and reverse grading. Visit EquipmentWorld.com/info

FLARE WING PLOW CASTS SNOW FARTHER
Cast snow farther with the VF Series flare wing trip edge V-plow from Hiniker, which has double-acting hydraulic cylinders to provide positive hydraulic control of moldboard positioning. The plows are available in 8.5- and 9.5-foot widths and have an independent high clearance trip edge design for smooth operation. The pinch free pivot point is located 9 inches above ground level for protection from curbs and barriers.
Visit EquipmentWorld.com/info