This article is intended as a handy checklist of considerations when buying a used wheel loader, not as an all-inclusive used equipment guide.
Dennis Nalon, used equipment manager with Walter Payton Power Equipment, Lebanon, Indiana, likes to start his used loader inspections by getting the general lay of the land. "I go around the machine and note any basic problems with tires, sheet metal, windows and linkages," he says. "I look for things that jump out, then I'll go into specific details."
There are a number of items that would raise immediate red flags in this initial inspection: cuts in a tire sidewall or tread, cracks in the wheel area, obvious cylinder and hose leaks, missing grease zerks, excessive wear on the bucket, and cracks, welds and plates on the frame. These would all be signs, Nalon says, the loader has been through some hard times.
Always check the hour meter and, if possible, have an inspection partner along who's knowledgeable about loaders. Our inspection machine is a 2007 Doosan DL300 with 650 hours on it. That may not seem like many hours, but this rental machine in Walter Payton's fleet has spent the majority of its life in demolition applications – hence the foam-filled tires and underneath plating.
Tires and wheels
The significant cut on our machine's left front tire is not the concern it would be if the machine had regular pneumatic tires. With regular tires, however, there are several things to watch out for in addition to cuts, all of which could be safety hazards. A ripple on the sidewall could indicate there's been a tearing of the interior liner. Check tire pressures and verify there's no issues with the rim of the wheel. Also look for missing wheel lug nuts or bolts.
When you check the tread on all tires, note the raised wear width in the center of the tire, Nalon says. When that is worn down, you'll want to pay closer attention to getting it replaced. Nalon says he would advise replacing the tire after it gets another 1/8-inch past the point the wear width has gotten even with the surrounding tread.
"Look on the back side of wheels and tires to make sure there's no oil or debris that's caught up in there, especially in a machine used in demolition," Nalon says.
And don't forget to inspect all four tires. One tire's condition – whether good or bad – doesn't necessarily mean the other three tires are in the same shape, or even the same size.
Engine compartment
Do the usual fluid checks, looking at the condition and level of the engine oil, antifreeze and hydraulic oil. Check the belts for wear and possible replacement. As always, be on the lookout for leaks, both around the engine and the radiator. "You never want to start the engine if you see an oil or antifreeze leak or a belt that's starting to come apart," Nalon says. "First replace the belt and determine where the leaks are coming from, then you don't have to worry about a belt flying and hitting someone, or a leak spraying oil and causing a fire."
Look at the air cleaner indicator to see if the air cleaner needs to be changed. Make sure the air inlet to the turbocharger is intact and there's no tears the tube. If tears are present, replace it immediately, since dust bypassing the air filter could get into the engine and cause an engine failure.
Examine the filters: do they look like they've been changed? Pull out the air filters and check them.
When you run the engine, listen for noises and observe the smoke coming out of the exhaust. Look at the dashboard indicators to see if there are any diagnostic issues with the engine.
Transmission
The transmission is located at the center of the wheel loader, underneath the cab. Check the transmission oil dipstick and look at the level indicator to make sure there's sufficient oil. Look for leaks and take care of them before you start the machine.
Hydraulics
Check all cylinders and hoses for leaks and try to determine each leak's origin. Other areas to look for leaks include the hydraulic pump, the area where the drive shafts go into the rear ends, and axle seals.
Hoses are susceptible to leaks, especially at the crimp fittings and at the O-ring face seal fittings. Perform a pressure check on the system to make sure you're getting the pressure you need.
Linkage
The machine's front half has several pin areas that you want to pay close attention to – including the boom pins, tilt cylinder pins, tilt rod end pins and boom cylinder pins. Note the condition of each of these pins.
During your operational checks, it's good to have a second knowledgeable person observe if there's any excessive sideways movement in these pin areas.
There are also a lot of grease zerks in this area. Make sure each zerk is in place and shows signs of being recently greased.
Center pivot
"This is an area where the machine's pivot bearings must be greased well and often," Nalon says. Make sure all the grease fittings are present, are intact, and the top and bottom pins are vertically aligned.
When you're operating the bucket, have your inspection partner observe the top and bottom pins of the center pivot and note if there's excessive up and down movement, which could indicate wear.
Bucket
Determine the bucket's yardage – usually a matter of calling up a local dealer that carries the particular make of bucket. Inspect the bucket's digging edge and make sure the bottom wear plates haven't worn through. If the digging edge comes to a point, then you'll need to figure the cost of a replacing the edge into your final calculations. Inspect the teeth for wear and possible replacement. Our machine had a heavy duty Geith bucket on it, and seemed to have endured its previous use with no observable major wear.
Structural
Check the frame for any cracks, welds or plates. At the back of the machine, look at the radiator grill to make sure there are no cracks, and that the air intake inlets for the air cleaner are not damaged. "Our machine has a lot of bumps and bruises on it," Nalon says, "but that's just because of the demolition jobs it's been on."
Pins and corners are also stress points, as well as any area that's been factory welded. The steerage linkage is also susceptible to cracks.
And examine the underneath of the machine, looking for puncture holes or any other damage caused by debris.
Cab
Now it's time to step up into the cab, and as you do look at the condition of the access ladder to ensure the rubber on the bottom reinforced rung has no cracks, nor are the metal steps bent out of shape in a way that would make it difficult to safely access the cab.
During your walkaround, you would have verified that all lights – including blinkers, safety lights and flashers – are intact. Now's the time to check out if they actually work.
First check out the windows and mirrors, making sure there are no cracks, missing panes or mirrors, or a mirror mount that's out of adjustment. Also check for any cracks on the gauges. Sit in the seat and work all the adjustments. Does it easily slide back and forward, and up and down? Are there any rips in the seat?
Turn on the machine and check all the gauges to determine if everything is functioning correctly. Work all buttons and levers, and turn on all lights and flashers. Work the windshield wipers and radio and make sure the heat and air conditioning work.
Operational
The engine should have warmed up while you checked out the cab items. Now is the time to put the machine through its paces. Verify the brakes work properly and the throttle works. If conditions allow, put the machine under load. Go through several bucket load and dump cycles, noting any hesitations or jerkiness. Put the machine in forward and reverse in all gears, listening for any loud noises. How does the machine respond to abrupt forward-reverse commands? "The transmission should go into gear firmly," Nalon says, "and there shouldn't be any slippage."
Hopefully you'll have enough room to fully work the loader, putting it a operation that will be similar to the way you plan to use it. And make sure the back-up alarm works.
Final checks
Whether you're looking at a machine that's on a dealer's lot or being sold by its owner, ask the seller several questions, including how the machine was used and whether any components have been rebuilt, replaced or had major repairs.
The condition of a used machine depends more on the care it has gotten rather than actual hours, Nalon says. "I've seen machines with 600 hours, and you'd think they had 6,000 hours on them. It really depends on the people who use and maintain it."
Ask for the service records and oil analysis history, and look for details. "This will tell you they not only did the service but what they actually did, such as changing the oil in the planetaries or inspecting the brakes," Nalon says. And maintenance records can help you overcome appearance prejudices, since as Nalon pointed out, appearance sometimes doesn't tell the whole story. EW
Used wheel loader inspection checklist
General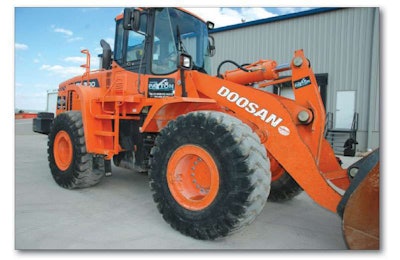 Make/model Number of hours Serial number Engine make/model Previous owner/application Service/oil analysis history available? Options on machine
Bucket/attachments
• Make/yardage • Type of bucket • Condition of cutting edge • Tooth wear • Any cracks?
Condition of tires, wheel area
• Any sidewall damage? • Any retreads? • Cracks on the rim? • Are lug nuts or bolts all there? • Left front tire % of tread remaining • Right front tire % of tread remaining • Left rear tire % of tread remaining • Right rear tire % of tread remaining
Axles
• Condition of front drive line • Condition of rear drive line • Differential lock • Axle mounts front • Axle mounts rear
Structural condition/overall appearance
• Cracks? • Dents? • Welds and/or plates? • Condition of paint/decals • Steps Cylinders
Any leaks on:
• Boom cylinders? • Tilt cylinders? • Steering cylinders?
Pin areas
Inspect the following areas for movement and note condition:
• Boom pins • Tilt cylinder pins • Tilt rod end pins • Boom cylinder pins • Lift rod end pins • Tilt link pins • Top bucket pins • Bottom bucket pins • Bellcrank pins
Engine compartment
• Hours since engine overhaul? • Leaks • Oil condition, level • Condition of exhaust • Exhaust smoke color • Fan belts • Coolant • Radiator • Air cleaner
Transmission
• Type of transmission • Number of forward/reverse speeds • Shifting performance • Moves in all gears • Slippage in gears? • Transmission oil leaks • Oil appearance, level • Clutch operation
Brakes
• Overall operation • Parking brake • Brake control • Linings • Air system • Valves and lines
Hydraulic system
• Leaks? • Oil appearance, level • Hydraulic performance • Oil cooler • Oil cooler fan • Condition of hydraulic hoses
Cab
• Enclosed or canopy? • Condition of ROPS • Cab doors • Seat condition • Seat belt • Arm rests • Horn • Mirrors • Floor mat • Heaters/controls • AC/controls • Windows/glass • Steering operation • Control levels • Gauges in place and working • Knobs/switches • Fuel gauge • Radio • Lights • Backup alarm • Operators manual present and in good shape?