By Amy Materson
EDITOR'S PICK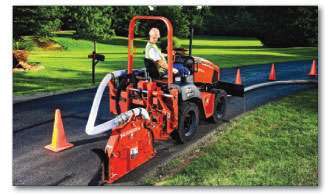 TOP-NOTCH TRENCHING
Slice cleanly through asphalt with Ditch Witch's MT12 Microtrencher, designed for installing fiber optic cable on paved rights-of-way, cutting expansion joints, utility repair and maintenance. Four saw blades cut precise trenches from 0.75 inches to 1.25 inches wide and up to 12 inches deep in a single pass. Paired with an FX60 vacuum excavator and either an RT45 or RT55 trencher, the MT12 is part of a complete microtrenching system. The trenching depth can be easily adjusted in 1-inch increments from 6 to 12 inches deep to enable maintaining a consistent depth for the length of the trench.
A manual tilt feature enables the operator to tilt the unit 6 degrees to the right or the left when working on uneven surfaces. For trenching along curbs and gutters, the saw blade hydraulically traverses 24 inches from the center of the machine to the right. Optional onboard chutes deposit spoils alongside the trench for simplified cleanup.
Specs:
Angle of departure: 19°
Trench depth: 6.5"-12.5"
Blade diameter: 34"
Attachment height, transport: 68"
Ground clearance at wheel: 24"
Working length, from centerline of rear axle: 81"
Maximum working width: 67"
Blade speed, variable: 0-160 rpm
Visit EquipmentWorld.com/info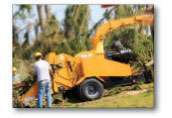 BRUSH BUSTER
Decrease trimming in chipping applications with Rayco's RC1824 brush chipper, which has a feed system that pulls in material easier. The 18-inch-capacity chipper has a standard 130-horsepower Cummins engine or an optional 160-horsepower Cummins turbo diesel. The RC1824 features a 24-inch-diamter top feed wheel powered by a planetary drive motor, and a 24-inch-wide chipper throat.
Visit EquipmentWorld.com/info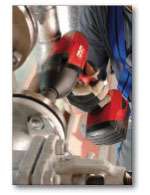 LONG BATTERY LIFE
Achieve performance gains with Hilti's SIW 18T-A CPC impact wrench, which delivers 10 percent more torque than previous models. The 18T-A is useful for metal bolts, wood lag bolts and concrete screws, and provides a high number of fastenings per battery charge. The wrench has a compact design for improved mobility.
Visit EquipmentWorld.com/info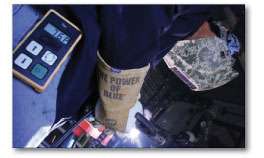 WIRELESS WELDING CONTROL
Extend your welding range and reduce clutter in the work area with Miller Electric's wireless remote hand and foot controls, which eliminate additional cords and extensions. Available in the Wireless Remote Foot Control model for TIG welding, and the Wireless Remote Hand Control model for Stick, TIG, MIG and Flux Cored welding, the controls deliver the same performance as corded models. The controls eliminate wear and failure associated with remote cords and enables the welder to reposition without dealing with tangled cords. The foot control enables the welder to adjust amperage at the point of use, and the hand control allows for parameter adjustment for different joint configurations, electrodes and wire types and sizes.
Visit EquipmentWorld.com/info
PRECISION LOCATION
Locate cable and pipe quickly and accurately with Radiodetection's RD7000 and RD8000, which are Centros-enabled for timely responsiveness in the field as well as repeatability. Models RD7000 and RD8000 are 28 percent lighter than previous models and include ergonomic features for ease of use. The units' receiver and transmitter have large, high contrast LCD screens that are backlit for use in a range of lighting conditions. The units also include the eCAL applications suite for use with desktop or laptop computers.
Visit EquipmentWorld.com/info
JACK IT UP
Eliminate hand cranking when manually raising and lowering light and medium duty trailers with Stillwell's Model SJX-1200 hydraulic jack, which provides up to 10,000 pounds of lift force and 12,000 pounds of load support force. The easy-to-use jack elevates the trailer to a 56-inch height at the press of a button, and works with a range of hydraulic pumps. Features include a manual drop leg with enhanced pull-pin design, a precision chrome overcap seal that protects and locks in hydraulic input force and a large base for stability.
Visit EquipmentWorld.com/info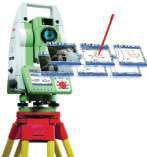 TOTAL CONTROL
Enhance total station productivity with Leica's Viva TS11, an advanced manual total station with a high resolution camera. An Image Capture function enables the user to take high resolution images of the surveying scene, as well as capturing any screen shown on the display, minimizing paper field notes and eliminating re-visits. The TS11 also features a sketch tool, image linking and SmartWorx onboard software.
Measurement capabilities:
Angle measurements of 1, 2, 3 and 5 inches with quadruple axis compensation
3,500m with 1mm+1.5ppm accuracy on a single prism in standard measuring mode
1,000m with 2mm+2ppm accuracy on all surfaces
Visit EquipmentWorld.com/info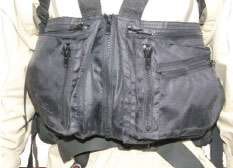 PRACTICAL PACK
Comfortably carry more than 600 cubic inches of gear with the Ribz front pack, a lightweight gear pack that fits around the ribcage. Made from 210D waterproof ripstop nylon, the Ribz pack features four external zippered pockets and four internal pockets. The shoulder straps are wide enough to evenly distribute weight, and adjustable Velcro straps eliminate bunching or sagging. The Ribz pack, which weighs just 11 ounces, does not impede torso or arm movement.
Visit EquipmentWorld.com/info
TOUGH TRACK LOADER
Tackle tough jobs in confined spaces with Caterpillar's 259B3 71-horsepower compact track loader, which has an independent fully suspended steel undercarriage on a small frame platform. The 259B3 has a 2,950-pound rated operating capacity at 50-percent tipping load, and a 3,000-pound ROC with an optional counterweight. The vertical-lift unit delivers 120 inches of lit height to simplify truck loading and material placement. Steel embedded rubber tracks offer 59 inches of track on ground for efficiency in difficult terrain, and planetary reduction drive motors provide a speed of 8.5 mph. The track loader also features hydraulic pumps and auxiliary system driven directly from the engine that supplies a 22-gpm oil flow and pressures up to 3,335 psi. Low effort pilot control joysticks ensure operator comfort and an easy access rear door simplifies maintenance.
Visit EquipmentWorld.com/info

FUNCTIONAL FIELD CONTROLLERS
Experience efficiency and productivity in a pocket-sized unit with Topcon Positioning Systems' FC-25 Series field controller. Using Windows Mobile 6.5, the FC-25 and FC-25A feature 256MB RAM and 2GB of flash memory and are useful for data collection on any jobsite. Built-in sensors for GIS applications ensure the units provide positional information by point positioning or DGPS using SBAS corrections. The lightweight controllers also include a built-in 3MP camera, compass and altimeter, and are dustproof, waterproof and drop-proof from 5 feet.
UNIT FEATURES
• 533MHz processor
• 640×480 VGA 3.5" TFT touchscreen
• 20-channel L1 GPS receiver
• Integrated wireless LAN and Bluetooth connectivity
Visit EquipmentWorld.com/info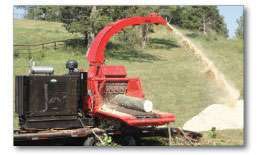 QUICK CHIPPER
Perform right-of-way chipping and pipeline and land clearing applications with Fecon's FCM22, a 22-inch-capacity chipping module that mounts to a range of carriers. The drum-style unit has six knifes for consistently-sized wood chips, and delivers production rates of between 40 and 50 tons per hour. Available with either 365 or 500 horsepower, the FCM22 also features load sensing hydraulics and an IQAN control system.
Visit EquipmentWorld.com/info