How do you cost out a multi-purpose machine? As one or three?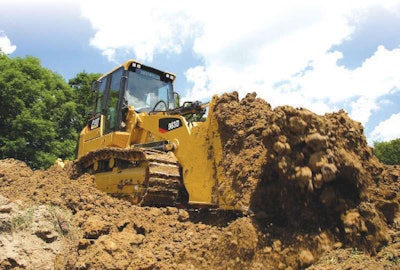 "Its hard to measure productivity on a track loader because of all the things it can do," says Ken Nebergall, product sales engineer, track-type tractors and track loaders at Caterpillar. "It complements other machines."
"These things make money because they're versatile," says Sam Meeker, product application specialist for track-type tractors and track loaders at Caterpillar. "It's not how much this one machine can make you, but how much more efficient it can make your entire fleet. You need to take a system-wide view of profitability. Track loaders can move dirt more efficiently at a lower cost than a lot of other products, but there are a lot of newer contractors out there who aren't as familiar with what a track loader can do as much as the older generation. For example, compared to a wheel loader, you can extend your worktime in bad weather because of the track-type undercarriage."
To get a handle on what it costs to own and run a track loader, Nebergall and Meeker suggested we study a Caterpillar 963D model, the most popular of Cat's three models. "The 953s sell more into lighter construction, some basement digging and housing construction," Sam says. "The 973 is more focused on the industrial market – waste applications and demolition. The 963 is a good all-around, mid-size track loader that gets put into a lot of different applications."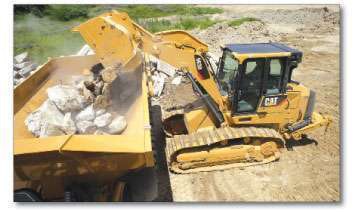 The standard unit today comes with AC and an enclosed cab. With so much emphasis on operator comfort, noise, cleanliness, productivity and safety, Cat doesn't spec an open ROPS design for these machines, Meeker says. Options include a V-lever or joystick steering controls, ripper, a quick coupler, a multipurpose or 4-in-1 bucket, and 18- or 31-inch track shoes (standard is 22 inches). "Most of the machines go out pretty well loaded with options," he says.
We put a ballpark figure of $260,000 for a well equipped track loader into our O&O cost calculations. Just keep in mind that this is a generalized estimate of the list price and we're using it here for discussion purposes only. List prices for the 963D range from $260,000 to $300,000, depending on guarding and options. Consult with a dealer to get a more accurate figure for the machine speced the way you want it. We're also omitting financing and insurance costs in our calculations, so be sure you add those back into any calculations you do.
Varied lifecycles
Most production customers, those in the landfill, steel mill and other high-hours applications, will hold onto their track loaders eight to 10 years before trading them in, says Meeker, putting 2,000 to 3,000 hours on them in a year. A general contractor, earthmover, pipeline or utility crew may keep them up to 15 years with multiple rebuilds on major components, but log fewer hours per year.
The undercarriage is always a major cost consideration. In harsh applications it may need rebuilding after 2,000 to 3,000 hours. In less abrasive or destructive conditions the undercarriage may last 6,000 to 7,000 hours between rebuilds. Also, depending on the application, either the SystemOne track or the traditional sealed and lubricated track can be ordered to minimize the undercarriage costs.
Engine and hydraulic rebuilds come into the picture at around 10,000 to 12,000 hours. "In most of these applications, you're not working the engine that hard, you're not ripping all day long, so the engine and the hydraulics tend to last longer," Meeker says. A fairly typical scenario is to run a track loader up to the first engine rebuild and then run it another 5,000 to 6,000 hours or halfway through its second lifecycle before selling it.
Used track loader prices are currently depressed due to the recession. Meeker says he's seeing five- and six-year old machines at the auctions right now going for $60,000. A few years ago, these same machines would have gone for $100,000, he says. We'll use the $60,000 figure; just keep in mind this fluctuates considerably depending on the market and the condition of the machine. Resale or used value estimates are easy to come by, with online resources providing a wealth of data.
Maintenance and fuel
Preventive maintenance is for the most part a known and fixed cost. Meeker and Nebergall peg it at $1.90 to $2.10 per operating hour. Most PMs are done on this machine every 500 hours.
Repairs and fuel costs are where you get significant swings from high to low. These differences are significant enough that we thought it would be instructive to run two side-by-side comparisons of the operating costs in our chart on page 40.
Repairs include replacement of teeth and cutting edges, welding and hydraulic repairs. "This has a lot to do with how you take care of the machine," says Nebergall, "but some jobs are just harder than others." If you're regularly dozing out stumps, pushing out boulders and ripping rock – as opposed to pushing or loading soil or carrying pipe – your repair costs will be higher. The range goes from $2 to $6 an hour, and $8 an hour is not unheard of.
The cost per hour of undercarriage rebuilds likewise depends of the severity of the application. Abrasive or rocky soils and high speed operations wear out components quickly. The extreme ends of the range for undercarriage rebuilds come in at $2 to $10 per operating hour. We pegged ours at $4 to $6 an hour as the more typical scenario.
Fuel costs vary by how hard you work the engine. For the 963D, the "Cat Performance Handbook" lists low fuel usage at 4.2 to 5.9 gallons per hour, medium at 6.5 to 7.7 gph and high at 7.7 to 9.5 gph. We chose the high end of the low and the low end of the high to represent the average situation.
Caterpillar 963D Track Loader
Owning and operating costs
1,200 hours per year/ 8-year lifecycle/ 9,600 hours total
COST BUSTERS
New features on many of today's machines can help drive down operating costs and boost productivity and uptime. Here's what's available on the Cat 963D:
Telematics: Cat's Product link lets you tap into a website and see how a machine is doing, where it's located, how much fuel is being burned. It will also remind you of upcoming PMs, which helps with scheduling, and gives you fault codes when problems arise.
Electro-hydraulic controls: By moving the pilot system and all the hydraulic hoses and connections attached to it out of the cab and replacing them with electro-hydraulic controls you reduce heat and noise in the cab. Electro-hydraulics also reduce operator fatigue, enable smoother operation and make it easier for less experienced operators to control the machine.
On-board diagnostics: "If there is a problem with or without Product Link, the onboard diagnostics notify you," Cat's Ken Nebergall says. The advantage is that when your technician or the dealer sends somebody out to fix the problem, they already know what the problem is. They don't waste time in diagnosis and they have the tools and parts in hand.
Centralized test ports: These make it easy and quick for technicians to do pressure checks and troubleshoot problems.
Tilt cab: 30-degree tilt in the field opens access to major components and reduces labor time.
Visibility: With a hard charging machine like this, the better you see, the less damage you incur.
Demand-type cooling system: Variable speed fans can provide lower fuel cost, lower sound levels and easy cleaning access with a swingout feature.