By Amy Materson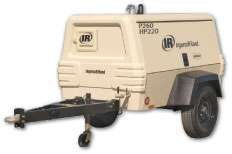 DOUBLE PRESSURE
Easily change pressure settings on Doosan Portable Power's P260WYM/HP220WYM dual pressure, dual flow air compressor, which features a simple control panel switch for quick changes. Useful for general construction and pneumatic tool applications, the unit operates at either 260 cfm at 100 psi or 220 cfm at 150 psi. The unit features a spin-on separator element for simplified maintenance, and easy-to-access components. An electronic diagnostic module offers fast troubleshooting, and a low-speed shutdown protection system simplifies wiring and electrical components.
Visit EquipmentWorld.com/info
CORROSION CONTROLLER
Improve indoor air quality and remove odor with General Equipment's axial-flow confined space ventilation blowers, which either remove air from a confined space or blow fresh air in for drying applications. Three models are available – the 8-inch EP8ACP, which delivers 900 cfm; the 860-cfm EP8DCP and the 12-inch EP12ACP, which produces 2,200 cfm. The blower's polyethylene construction eliminates corrosion that occurs with metal components.
Visit EquipmentWorld.com/info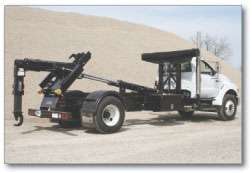 HOOK IT UP
Adjust the hook height without leaving the cab with Stellar Industries' Slider26 hooklift, which can be completed in less than 20 seconds. The 26,000-pound-capacity unit offers five different hook height options and handles body variations of 12 to 18 feet with a 68-degree maximum dump angle. A hexagonal boom design improves strength and durability, and zinc plated pins eliminate corrosion. Easily replaceable wear pads and an efficient mounting kit save installation time.
Visit EquipmentWorld.com/info
WORRY-FREE WELDING
ESAB Welding and Cutting Products' Aristo Feed 3004 with U82 Plus remote pendant is an easy-to-use arc welder that enables inexperienced welders to produce quality welds. The user selects MIG, TIG or Stick welding, and the welder sets the other parameters. The Aristo Feed 3004 features SuperPulse technology to control heat and allow you to select up to 230 synergic lines to simplify welding with solid wire, cored wire, metal cored wire and gas mixes. Creep start, gas pre-flow and hot start functions deliver a direct start with less spatter. Additional functions include crater filling, adjustable burn-back time and post-gas.
Visit EquipmentWorld.com/info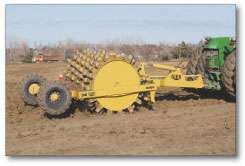 Easy turns
Effectively pack a wide range of surfaces with Icon Industries' rolling packer with hydraulic lift system, featuring elliptical teeth that allow for a higher percentage of pack with less chipping. A hydraulically actuated lift system lifts the 60- by 93-inch drum off the ground for easy turning, moving and loading. Nine-inch teeth allow deeper penetration, and the three-by-three tip delivers 259 psi of compaction. The 101-inch-wide unit meets the legal transport width in most states.
Visit EquipmentWorld.com/info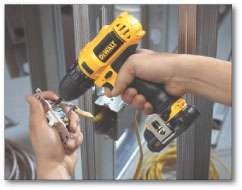 HANDY DRILL
Experience power in a compact size with DeWalt's 12-volt Max lithium ion 3/8-inch drill/driver kit, which has a two-speed transmission that delivers 0-400/0-1,500 rpm. A 3/8-inch single sleeve keyless chuck enables you to change the bit quickly, while reducing slippage. The drill/driver features electronics that protect the unit from overheating, overloading and deep discharge, and an LED light provides illumination in dark areas.
Visit EquipmentWorld.com/info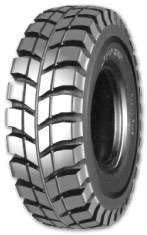 PUNCTURE PROTECTION
Enable long-haul capabilities at jobsites with Yokohama Tire's RL42 OTR dump truck tires, which have circumferential grooves that dissipate heat for cooler running. Designed for hard packed surfaces, the RL42 has a directional tread pattern that improves self-cleaning, boosting traction. Also improving traction are the tire's deep, wide grooves, useful in expelling mud and dirt. Steel cord belts reduce tread punctures, and buttress side protection helps eliminate snags and cuts.
Visit EquipmentWorld.com/info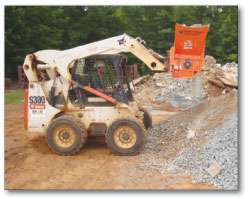 BIG CRUSH
Crush brick, block, pavers and more with EZ Grout's Hog Crusher, which attaches to a skid steer. The unit scoops the material to be crushed and then turns block, brick and pavers into usable aggregate. The Hog Crush handles up to 4-inch non-reinforced concrete to 2-inch minus aggregate.
Visit EquipmentWorld.com/info