Fontaine's Revolution H dropdeck
Aerospace technology combined with thoughtful R&D delivers a strong, lightweight trailer.
By Amy Materson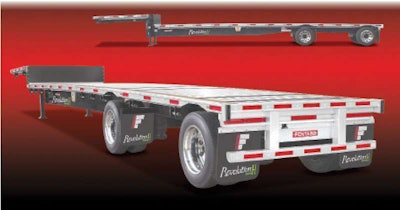 With its Revolution Hybrid dropdeck model, Fontaine Trailer wanted to introduce a lightweight trailer that also tackled a laundry list of problems associated with hauling. The resulting trailer has a composite construction that includes steel mainbeams and an aluminum floor. The 48-foot-long by 102-inch-wide unit weighs just 9,300 pounds and handles 52,000 pounds of concentrated load in 5 feet.
Adding strength
Strength and durability were high on the list for Fontaine when developing the Revolution Series. The company used a solid-state joining process used in the aerospace industry – friction-stir welding – instead of welding the floor together. Friction-stir welding joins the metal without applying heat. The process provides numerous benefits, says Hank Prochazka, vice president of sales and marketing. "It eliminates weak welds created by applying heat, and there are no bad welds due to operator errors," he says. "Also, weld wire can add between 200 and 350 pounds to a trailer, and we wanted this trailer to be lighter in weight."
The result is a unitized floor that corrects problems created in the past by exposed crossmembers and holes in the mainbeams. At first glance, it appears the crossmembers have been eliminated, but they have been incorporated into the floor as a continuous span of connected crossmembers. Jim Adams, Fontaine's research and development director, looked at compression capability and a variety of computer generated models to increase the number of crossmembers from the standard 48 to 230. The unitized floor design and additional crossmembers improves trailer stability under load and under centrifugal force, which reduces side-bow and lowers the chance a secured load will shift. With no exposed crossmembers, there's nothing under the trailer to collect dirt, mud and snow, which increase weight. The added stability also reduces tire wear and delivers better handling and fuel economy, says the company.
As an added benefit, the stiffened unitized design pulls straighter than previous models. "On a trailer without a unitized floor, the front axles scrub the wheels and create a force that slows the trailer, reducing fuel mileage," Prochazka says. "This new design keeps the trailer straighter."
Having a single piece floor takes care of some maintenance issues by default – the Revolution Series is made up of just 1,500 parts, compared to the 3,700 parts used in traditional trailer construction.
Fontaine also looked at reducing the potential for damage to side rails from accidents or collisions with forklifts. The company developed a single piece, routed aluminum extrusion with no welded pipe spools or rub rails. Under testing, the aluminum rails performed better than steel side rails, while still weighing less than their steel counterparts. For a video of the test, visit www.equipmentworlddigital.com.
Eliminating hassle
The company improved convenience through a simple-to-use load securement system. The system enables the operator to position the chain tie downs and chocks – or "turtles" – anywhere on the trailer deck through the use of a sliding rail system. The turtles have a 5,500-pound working load limit and stow away in an optional tool box rack when not needed. Also, Fontaine incorporated sliding strap retainers to keep straps in place. The straps do not drop during load securement or need to be adjusted during travel. "When we take the Revolution H to shows, the drivers get all excited when they see this," Prochazka says.
Instead of allowing electrical connections to hang beneath the trailer at the mercy of weather and tire spray, the Grote system is covered and protected, reducing electrical problems and decreasing wind resistance from the underside of the trailer. The system has 60 percent fewer connections than previous systems, and has all connections in the center of the trailer. A tail skirt extrusion protects the lights from damage. EW