By Marcia Gruver
Editor's Pick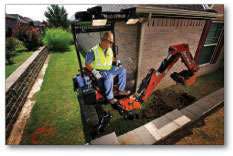 COMBO TOOL
The XT855 excavator-tool carrier from Ditch Witch is a 260-degree swing excavator combined with a tool carrier with more than 70 attachments. The 30-net-horsepower engine directs up to 18 horsepower to the tool carrier end. When equipped with optional extension legs, which provide leveling support in difficult digging conditions, the XT855 has a lift capacity of up to 1,080 pounds. The excavator can offset dig and deposit spoils anywhere within the excavator's swing arc, allowing you to dig against a footing, wall or fence.
Visit EquipmentWorld.com/info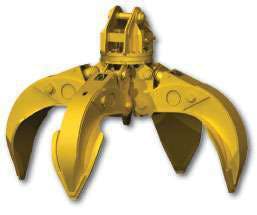 TOUGH GRAPPLE
The upper head and connecting link on the 4-Tine Orange Peel Grapple from Builtrite Handlers & Attachments have been redesigned, allowing hoses to be rerouted to come over the top of the material handler jib, protecting the hoses in scrap handling applications. Bolt-on cylinder covers are now standard
Visit EquipmentWorld.com/info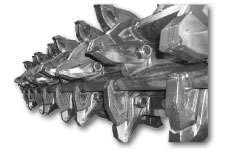 MULCH AWAY
A HDT rotor system is now available for Fecon's Bull Hog forestry mulching units. The shape, tool holder design and staggered tool pattern contribute to mulching performance. The rotor's improved efficiency means more production for the same horsepower. The system can be equipped with four different tool options.
Visit EquipmentWorld.com/info
Briefs
Gonzales Boring & Tunneling, North Plains, Oregon, bored 600 feet using a 42-inch diameter Robbins Small Boring Unit. Robbins says it's the longest distance excavated with the boring attachment. www.robbinstbm.com
Chevon's flagship heavy-duty diesel engine oil – Delo 400 LE SAE 15W-40 – is tested and ready for 2010 on-highway engines. www.chevron.com
Schwing America has launched a new online parts system, www.schwingparts.com.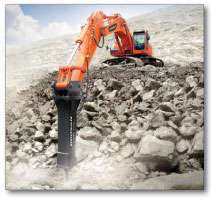 MONTABERT LEGACY
With its DXB 170h hammer, Dooson Infracore America Construction Equipment is combining the design and functionality of Montabert breakers with the affordable pricing and versatility of Doosan equipment. Designed for carriers weighing 18 to 28 tons, the 3,572-pound, 5,000-foot-pound impact class unit has a tool diameter of 5.39 inches and an operating pressure of 2,610 psi.
Visit EquipmentWorld.com/info

COMBAT CORROSION
PACCAR Parts' Roadleveler program offers new and remanufacturered brake components that last longer under the corrosive conditions of liquid de-icers. The all-make replacement parts include brake shoes and hardware kits for medium- to heavy-duty trucks. The brake shoes are coined, a form of precision stamping that eliminates the gaps between the shoe table and friction material to prevent water and de-icers from seeping behind the friction material.
Visit EquipmentWorld.com/info

AUGER DRIVE
Designed for medium- to heavy-duty applications, CEAttachments' Edge Chain Drive Augers have pre-stressed, fully-adjustable reduction drives. The chain drive housing unit has two-bolt-on panel doors that canV be removed for easier access to components when conducting seasonal maintenance.
Visit EquipmentWorld.com/info

WEIGHT CONTROL
The Equalizer nitrogen-assisted dampening system, featured on Talbert spread-axle trailers, hydraulically transfers loads. The suspension system oscillates around a central self-tracking pivot point to give proportionate weight distribution in each axle grouping, regardless of varying road conditions. It absorbs hauling and loading shocks, providing a greater range of suspension movement for reduced stress and a smoother ride.
Visit EquipmentWorld.com/info